Northeast Ohio's Leading Experts in Neurotrauma Care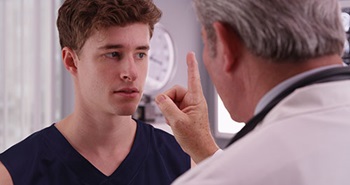 MetroHealth's Neurotrauma team includes the region's leading experts in all matters of brain and spine trauma caused by a sudden injury.
Neurotrauma includes:
concussions
traumatic brain injuries (TBI)
skull fractures
spinal column fractures
spinal cord injuries (SCI)
Our Neurotrauma team includes the Departments of Neurological Surgery and Neurology working together with our specialists in MetroHealth's Level I Adult Trauma Center, the first Level I trauma center for adults in Northeast Ohio, to provide the highest-skilled care after a critical brain or spine injury, from surgery or intensive care treatment through rehabilitation and recovery.
We also work with MetroHealth's Comprehensive Stroke Center to care for patients who need interventions or surgery related to traumatic cerebrovascular accidents.
Our team includes neurosurgeons, orthopedic spine surgeons, critical care neurologists, physiatrists for rehabilitation, nurses, social workers and physical therapists specially trained to treat brain and spine trauma.
All our physicians are faculty members at Case Western Reserve University's School of Medicine.
Schedule an appointment today.
Neurology 216-778-3958 | Neurological Surgery 216-778-8822
We treat the following conditions:
Head trauma, including:
Acute subdural hematoma
Blunt cerebrovascular injury
Cerebrospinal fluid leaks
Concussion
Craniofacial trauma
Depressed skull fracture
Epidural hematoma
Hydrocephalus
Mild TBI (traumatic brain injury)
Moderate TBI (traumatic brain injury)
Penetrating brain injury (such as gunshot, stab wound)
Severe TBI (traumatic brain injury)
Seizures
Subacute and chronic subdural hematoma
Traumatic intracerebral hemorrhage/brain contusion
Traumatic intraventricular hemorrhage
Traumatic pseudoaneurysm
Traumatic subarachnoid hemorrhage
Spine trauma, including:
Atlanto-occipital dissociation
Burst fracture
Compression fracture
Craniocervical spine injury
Distraction injury
Fracture-dislocation
Hangman's (C2) fracture
Hyperextension injury
Hyperflexion injury
Jefferson (C1) fracture
Lumbosacral spine injury
Odontoid (dens) fracture
Penetrating spine injury (such as gunshot, stab wound)
Perched/jumped facets
Spinal cord injury
Spinal ligamentous injury
Thoracic spine injury
Traumatic central cord syndrome
Traumatic intervertebral disc herniation
Traumatic pars defect (spondylolysis)
Traumatic spondylolisthesis
Partnerships in Trauma Care
MetroHealth joined the Northern Ohio Trauma System (NOTS) in 2010. This is a collaboration with Cleveland Clinic and other area hospitals to provide care to patients with traumatic injuries across Northeast Ohio through efficient transfer of patients to MetroHealth for definitive treatment.
It ensures each patient gets appropriate care as quickly as possible.
This partnership saves lives. Since 2010, trauma deaths in Cuyahoga County dropped 39 percent. In the city of Cleveland, trauma deaths are down 53 percent.
MetroHealth's Neurotrauma program also accepts patients from across Northeast Ohio via Cleveland Metro Life Flight, the first air medical program in the area.
Traumatic Brain Injury Program
MetroHealth's Traumatic Brain Injury (TBI) Program is the most comprehensive of its kind in Northeast Ohio. By intervening quickly after injury and providing care especially for patients who have suffered TBI, we are able to improve quality of life and long-term outcomes for our patients.
We offer:
A Trauma Intensive Care Unit
Neuromonitoring for brain injury
Complex cranial neurosurgery
TBI rehabilitation
As a result of our comprehensive care, the number of deaths from TBI have decreased across Northeast Ohio and more patients go on to specialized rehabilitation programs for TBI patients instead of Long-Term Care or Skilled Nursing Facilities.
Spinal Cord Injury Program
MetroHealth is just one of 14 centers in the country currently designated by the federal government as a Spinal Cord Injury Model System and tasked with performing collaborative treatment and research for patients with spinal cord injury. We offer care for the most severe spinal cord injuries, including:
Advanced complex spine surgery
Trauma Intensive Care Unit
Neuromonitoring
Neuro-specific nursing staff
Spinal Cord Injury Rehabilitation
MetroHealth is also part of the Cleveland Functional Electrical Stimulation (FES) Center.
We help people with spinal cord injury, stroke and other neuromuscular impairments regain movement and function they have lost. For spinal cord injury, we help patient move their arms or legs, control organs like their bowel or bladder, and exercise muscles for greater strength and improved circulation. FES devices can be implanted to permanently replace lost functions.
Rehabilitation
Patients from across Northeast Ohio come to MetroHealth Rehabilitation Institute to restore function and quality of life following a neurotrauma injury.
As one of our nation's first hospitals dedicated solely to rehabilitation, we treat the most complex rehabilitation patients in the region. In partnership with Case Western Reserve University and the Louis Stokes Cleveland Veterans Affairs Medical Center, we are in the forefront of innovation and discovery that attracts research participants, clinicians and scientists from across the nation and internationally.
Research
MetroHealth is at the forefront of Neurotrauma-related research. Our specialists contribute to national data collections to help advance brain and spine care for patients across the world.
MetroHealth Rehabilitation Institute: MetroHealth Rehabilitation Institute delivers outstanding rehabilitation care for brain and spinal cord injuries, trains the next generation of rehabilitation clinicians and scientists, and discovers new knowledge that becomes part of our standard of care.
Neurotrauma Systems Outcome Data Collection: MetroHealth Neurosurgeon Michael L. Kelly, MD, in conjunction with the Division of Trauma Surgery at MetroHealth, has created a database to track long-term outcomes for patients with Traumatic Brain Injury and Spinal Cord Injury. The goal of the database is to better understand and improve patients' function and pain levels after treatment and rehabilitation.
SCIMS Spine Registry: MetroHealth physicians contribute to a national database for spinal cord injury that tracks treatments and outcomes for patients with spinal cord injury. The database allows researchers to measure treatment effectiveness, identify best practices, and close gaps in medical evidence for spinal cord injury.
Second Opinions
Receiving the diagnosis of a serious neurological condition can be overwhelming and leave you with more questions than answers, especially when a major surgery or procedure is involved.
If you are interested in receiving a second opinion about your diagnosis, we offers patients the ability to see one of our specialists and help you determine the right next step for you.
Call the Department of Neurology at 216-778-3958 or the Department of Neurological Surgery at 216-778-8822 to schedule your second opinion today.
Our Doctors/Medical Providers
Our neurotrauma team includes neurosurgeons, orthopedic spine surgeons, critical care neurologists, physiatrists for rehabilitation, nurses, social workers and physical therapists specially trained to treat brain and spine trauma.
All neurotrauma procedures are performed at the MetroHealth Main Campus location.
Our Doctors/Medical Providers