Comprehensive Stroke Treatment
Certified by The Joint Commission as a Comprehensive Stroke Center, we offer complete stroke services—from the latest 24/7 emergency treatments to comprehensive stroke rehabilitation.
To make an appointment, call 216-778-5420.
For questions about inpatient rehabilitation services or the admission process, please call 216-778-3776.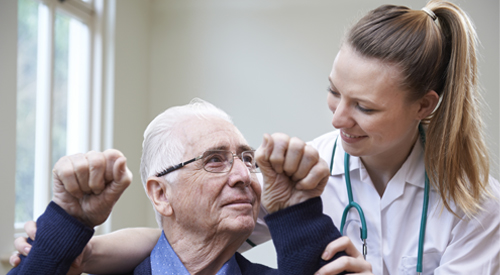 Stroke and Cerebrovascular Center
MetroHealth provides the highest level of stroke care available to residents of Northeast Ohio. Our stroke team includes highly qualified emergency doctors, neurologists, neurointerventional radiologists, neurosurgeons and specially trained stroke nurses. Certified by The Joint Commission as a Comprehensive Stroke Center, we offer complete stroke services—from the latest 24/7 emergency treatments to comprehensive stroke rehabilitation.
Every Second Counts
During a stroke, with each minute that passes, about 2 million brain cells die. Getting the right care at the right time can mean the difference between major and minor stroke effects. After the crisis passes, additional care is required for you to recover your health, your abilities and your life.
If you or someone you love is experiencing stroke symptoms, call 911. An emergency medical services (EMS) team will transport you to the hospital. Your care starts when ambulance crews alert the hospital they are en route. When the ambulance arrives, our stroke team will meet you at the door. The primary goal of this rapid assessment is to determine if a clot-dissolving medicine, called tissue plasminogen activator (tPA), can be given. This powerful drug can restore blood flow to the brain and reverse the negative effects of a stroke. The time window to give this drug is very small—three hours from the start of symptoms. Rapid transport by EMS is essential.
The time it takes a hospital to give tPA to an eligible stroke patient is known as "door to needle time." In 2016, our average time was 42 minutes--well under the recommended time of 60 minutes.
In addition to tPA, minimally invasive procedures to remove the clots or repair the aneurysms that cause brain bleeding are available 24/7. Neurointerventional radiologists can inject tPA directly to a blockage or extract the clot from the blocked blood vessel to restore blood flow to the brain as quickly as possible.
MetroHealth's stroke team has earned prestigious American Heart Association/American Stroke Association awards for quality and performance.
Recovery and Rehabilitation
After a stroke, physicians trained in rehabilitation at MetroHealth work to help you achieve the highest level of functioning possible.
Physical therapy starts as soon as you're medically stable. Many stroke survivors transfer from the main hospital to The MetroHealth Institute of Rehabilitation, one of the largest rehabilitation hospitals in Ohio. MetroHealth rehabilitation experts help stroke survivors regain lost abilities through physical, speech and occupational therapies.
Doctors and nurses work together to help you prevent another stroke. This vital education starts in the hospital and continues with your primary care physician. We'll help you control the risk factors that may contribute to another stroke.
Research Studies
At MetroHealth, we offer several patient-centered research studies focusing on stroke prevention and recovery. Our studies are led by physician experts—some who are known around the world—giving you opportunities to participate in cutting-edge science. Our researchers are testing innovative devices, such as electrical stimulation, to help stroke survivors move a paralyzed hand.
5 Signs of Stroke You Don't Want to Ignore
Time matters when a person has a stroke. Early treatment can help reduce disability from the stroke.
Learn more