About Us
A Message from Akram Boutros, MD, FACHE – President and CEO
At MetroHealth, our mission, vision and values are not just words on a fading poster tucked behind someone's desk. They are the core of our actions. While we take care of the ill and injured, we are increasingly focused on preventive care, fulfilling our mission of "leading the way to a healthier you and a healthier community through service, teaching, discovery and teamwork." And we do this in an environment of inclusion. Every patient, whether economically needy or economically comfortable, gets the same attention – full attention – from our staff.
MetroHealth physicians, from many parts of the country and around the world, bring a diversity of cultures, races, religions, expertise and ideas. We celebrate these differences and appreciate how they add to our success. Many are leaders in their fields and they choose to work here for the opportunity to make a difference in their community.
Our goal has always been to treat patients like family, with the respect and dignity they deserve. As one patient says, "I don't feel like a number. I get outstanding individual care and attention by many compassionate professionals."
We care, we mean it and it shows. It's a 24/7/365 thing for us.
---
Mission
Leading the way to a healthier you and a healthier community through service, teaching, discovery and teamwork.
Vision
MetroHealth will be the most admired public health system in the nation, renowned for our innovation, outcomes, service and financial strength.
Values
Service to Others
Teamwork
Accountability
Respect
Inclusion and Diversity
Quest for Excellence
The MetroHealth System, Cuyahoga County's public health system, is honoring its commitment to create a healthier community by building a new hospital on its main campus in Cleveland. The building, and the 25 acres of green space around it, are catalyzing the revitalization of MetroHealth's West Side neighborhood.
MetroHealth will break ground on the new hospital in late 2018, using nearly $1 billion it borrowed on its own credit after dramatically improving its finances. In the past five years, MetroHealth's operating revenue has increased by 44.5 percent and its number of employees by 21 percent. Today, its staff of 7,700 provides care at MetroHealth's four hospitals, four emergency departments and more than 20 health centers and 40 additional sites throughout Cuyahoga County. In the past year, MetroHealth has served 300,000 patients at more than 1.4 million visits in its hospitals and health centers, 75 percent of whom are uninsured or covered by Medicare or Medicaid.
The health system is home to Cuyahoga County's most experienced Level I Adult Trauma Center, verified since 1992, and the only adult and pediatric burn center in the state of Ohio.
As an academic medical center, MetroHealth is committed to teaching and research. Each active staff physician holds a faculty appointment at Case Western Reserve University School of Medicine and its main campus hospital houses a Cleveland Metropolitan School District high school of science and health.
2018 Annual Report
A person's overall health is affected four times as much by social, economic and environmental factors than by medical care and genetics. MetroHealth's internal and community-wide efforts to address socioeconomic and lifestyle factors are leading to better physical and mental health for our community.
View Digital Report
Foundation
The MetroHealth Foundation, Inc. is a 501(c)(3) charitable organization that supports The MetroHealth System's mission by funding programs and projects in patient care, scientific and clinical research, and medical education. We thank our donors who make so much possible for so many.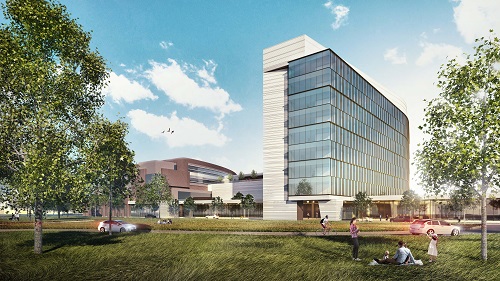 Transformation
MetroHealth has begun construction on a new hospital and reimagined main campus. It will be
LEED
-certified, and the first
EcoDistrict
anchored by a health care system in the U.S. For more information about this ambitious community revitalization project, read our
Transformation Blog
and
Fast Facts
.
Our New Hospital