Convenient, Caring Pharmacy Expertise
MetroHealth offers pharmacy services at many locations throughout Northeast Ohio, with services you might not find anywhere else.
To find out more, call 216-957-MEDS (216-957-6337).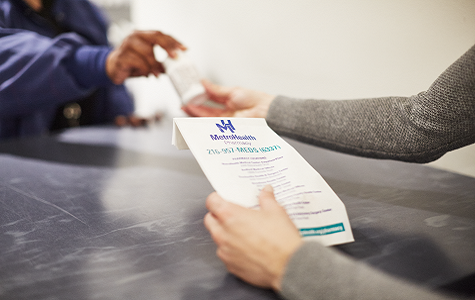 Pharmacy
The experienced pharmacists and pharmacy technicians at MetroHealth work carefully to help you manage your medications, and put together the best treatment for you. They can also review your medicines and make suggestions to your MetroHealth physician if needed.
>> 13th Annual Advanced Practice Pharmacology Conference
Manage your prescriptions online.
Mail Order Pharmacy
Monday through Friday, 7 a.m. to 7 p.m.; Saturday, 10 a.m. to 2 p.m.
Mail Order Fax: 216-957-4760
Specialty Pharmacy Services
Monday through Friday, 7 a.m. to 7 p.m.; Saturday, 10 a.m. to 2 p.m.
Specialty Fax: 216-957-4788
Around the clock clinical on-call access is available for mail order and specialty pharmacy services. Our facility is fully licensed to serve all MetroHealth patients within the state of Ohio.
MetroHealth's specialty mail-order service is an easy and convenient way to get your medications filled and delivered directly to your home. You won't need to worry about getting to the pharmacy before you run out of medication, because your medication will be at home waiting for you!
To arrange for a delivery of a new or refill specialty medication:
Ask your doctor to send the prescriptions electronically to MetroHealth Valley View Mail Order Pharmacy.
Written or hard copy prescriptions can be mailed to our pharmacy: MetroHealth Mail Order Pharmacy, 9885 Rockside Rd. - Suite 157, Valley View, OH 44125
Refills can be requested by calling our Service Excellence Team at 216-957-MEDS (6337),

online

, or through our RefillRx mobile app.
Our Specialty Pharmacy team will work with your insurance company to provide the best coverage possible for your specialty medication. If at any point a medication substitution needs to be made, our specialty pharmacy staff members will inform you of the changes made with your physician's approval. A medication will be substituted with a generic equivalent drug if applicable with the medication prescribed.
Patient assistance programs are also available for those who qualify. We will keep you informed throughout the prior authorization process. Once approved, the specialty team will arrange the delivery method for your medication. If insurance does not allow us to fill your prescription, our pharmacy staff will transfer the prescription via phone or fax to the new pharmacy and alert you of where and when you will receive your prescription.
---
Home Delivery Saves You Time
If you use a maintenance medication, we have even more ways to serve you. With our home delivery pharmacy service, your medications may cost less. And they'll be shipped right to your home. To get started:
Ask your MetroHealth doctor to write a prescription for a 90-day supply, with as many as three refills.
Download and complete the order form.
Mail your paper prescriptions and the form to: Pharmacy Home Delivery Service, 9885 Rockside Road, Suite 157, Valley View, OH 44125.
Once the pharmacy receives your order, your prescriptions will arrive within five business days.**
Convenient Drug Refill Options
At MetroHealth, you can refill your prescriptions with just a tap of your finger. Go to our secure web page and choose from one of three options:
Click on "Register," fill in your information, view your active prescriptions and request a refill.
Click on "Quick Refill," and submit a request without registering for an account.
Click on "Download App," and use your cellphone to refill prescriptions when you're on the go.
Why Choose MetroHealth?
We know there are dozens of pharmacies in Cuyahoga County that could fill your prescription. But when you choose MetroHealth, you get services you might not find anywhere else.
We offer specialty medications including biologic injectables, oral oncology prescriptions and drugs used to treat severe and chronic conditions, such as hepatitis C and HIV. Many of these medicines come with prior health plan authorization and other requirements. We can help. Our team of pharmacists and pharmacy technicians can work with your insurance company, so you won't pay more than you should. We offer next day or same day shipping options for Specialty orders.
We also offer a large selection of over-the-counter (OTC) medications. When you need help with cold symptoms, dry eyes or some other issue that an OTC drug can correct, we can help. And you're likely to get cost savings when you work with us.
We also offer routine immunizations to protect you against the flu, pneumonia or shingles. And there's no appointment required.
Your MetroHealth Pharmacist In the Know
Our highly trained pharmacy experts help you understand your medicines. And our team can help you to avoid medication interactions. When you fill your prescriptions at a MetroHealth pharmacy, your pharmacist will check your electronic health record to see everything you're taking. If your pharmacist spots an area of concern, you'll know about it—before you take something that might make you sick. Your MetroHealth pharmacist will even ask about all the OTC remedies you're using, and let you know right away if there's an issue.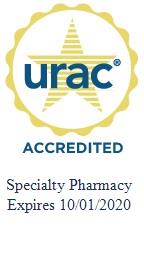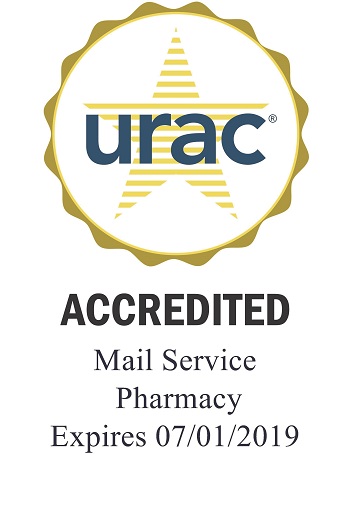 ** The MetroHealth Mail Order Pharmacy is licensed to operate and ship packages to MetroHealth patients only within the state of Ohio.
Graduate Medical Education
The MetroHealth System is committed to providing high-quality education and training programs in residency, fellowship and advanced nursing.
Learn more about our programs