MyChart
All your health information in one place.
Manage your medications and view test results, upcoming appointments, medical bills and more.
MyChart
MyChart Gets You Connected to Your Health
MyChart gives you online access to your medical record. Whether you're at work, on the road, or at home, you can view test results, messages from your doctor, and your key medical information.
You can even access your family's records and schedule your next appointment online.
Interested in a Phone or Video Visit?
MetroHealth offers telehealth services for you to conveniently meet with your MetroHealth provider by telephone or video. And with a MyChart account and MyChart app, your experience will be even better!
Telehealth appointments provide easy access to get you the care you need, when you need it, without leaving your home.
Learn more about telehealth visits
---
MyChart Features:
Check-in before you arrive.

Verify demographics, insurance information, pre-pay, keep your medication list up-to-date, as well as update your allergies – all before you arrive.

Access your test results.

No more waiting for a phone call or letter. View your results and your doctor's comments within days.

Communicate with your doctor.

Get answers to medical questions without phone tag or unnecessary appointments.

Manage your appointments.

Schedule your next appointment or view details of your past and upcoming appointments.

Pay bills online.

Access and pay your copays and bills from home.

Request prescription renewal.

If your prescription has expired or you do not have any refills left, request a renewal from your provider.

Download, Send, or Receive Medical Records.

Download and/or send visit summaries to another provider. You can also download records you requested from Medical Records.

Download the MyChart App

MyChart is available for iOS and Android.

How to Download MyChart for MetroHealth

Go to the App Store or Google Play on your mobile device
Search for "MyChart"
Download the app
Open the app on your mobile device and choose MetroHealth as your provider
Log in with your MyChart username and password

MyChart Support

Email: [email protected]
Phone: 216-778-8801
Monday – Friday, 7 a.m. – 7 p.m. ET
Cleveland, Ohio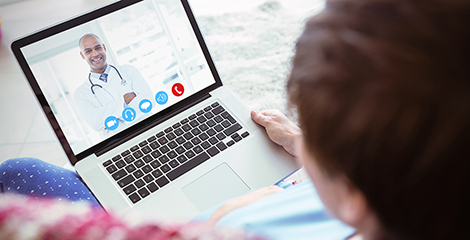 Video and Phone Visits
Learn More About Telehealth Options
There's a good chance your doctors' visits have gone virtual – and many are expected to stay that way.
Our experts – Kathryn Teng, MD, Director of Adult Health and Wellness, and Albert Ferreira, Director, Telehealth Operations – recently addressed patient questions and offered some tips about telehealth appointments.
Watch Now