MetroHealth Foundation
The Transformation Campaign
For All of Us
In support of the new hospital project, the Transformation, MetroHealth has launched a philanthropic campaign: For All of Us. The campaign will support community programs, education and research, and development of expanded campus green space.
Our goal is to raise a minimum of $100 million in philanthropic contributions for our transformation. We hope you will join us.
MetroHealth Foundation News
Bank of America Awards $1 Million Grant Toward MetroHealth Transformation
The Bank of America Charitable Foundation has awarded a $1 million anchor grant to MetroHealth that will be used to support MetroHealth's expanded services and transformation. Bank of America is the first lead corporate partner of MetroHealth's philanthropic campaign, "For All of Us."
During the November 28, 2018 Board of Trustees meeting, Bank of America executives presented a check to MetroHealth President and CEO Akram Boutros, MD, FACHE and leaders from The MetroHealth System Board of Trustees and The MetroHealth Foundation Board of Directors.
Ways to Give
Learn more about fundraising events as well as tax-deductible options available for making a charitable gift to MetroHealth.
Ways to Give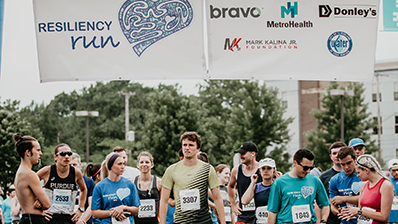 Event Sponsorship
Learn more about sponsorship opportunities for our events in 2019 and how to support GALA2020.
Event Sponsorship