Annual Stroke Outcome Data

MetroHealth's Emergency Department has earned recognition as a Target: STROKE Elite Plus hospital for their ability to give tPA to stroke patients.
What is "Door to Needle" and why does it matter?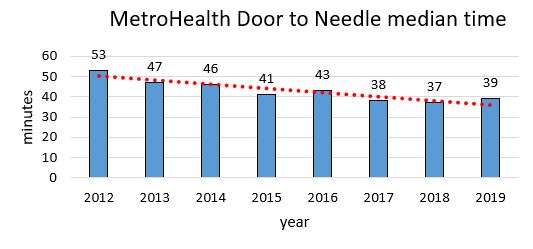 Door to Needle time is a measurement of the time it takes a hospital to give the clot busting drug- tPA- to stroke patients who are eligible to receive it. MetroHealth's Emergency Department is committed to giving tPA in the fastest, safest time possible by activating the Stroke Team before the patient arrives at the Emergency Department.
MetroHealth has earned the Gold Plus seal for Quality from the American Heart/American Stroke Association.
What Do the Core Performance Measures Mean to You?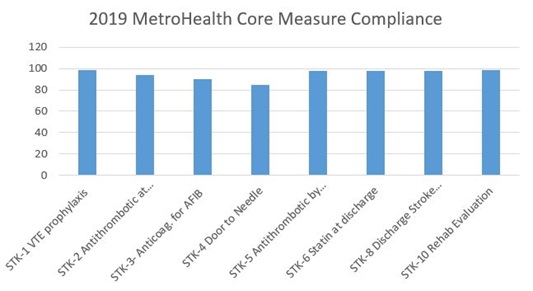 The 8 Core Performance Measures for stroke are indicators of the quality care expected for stroke patients based on the latest stroke research. During 2017, stroke patients admitted to the MetroHealth Stroke and Cerebrovascular Program received this high level of care > 95% in all categories.
MetroHealth Stroke and Cerebrovascular Program 2019 Outcome Data
Percentage of patients who had a stroke during or 24 hours after a Carotid Endarterectomy procedure:
Percentage of patients who experienced a complication within 24 hours after diagnostic angiography in the Neuro Interventional Radiology department: