Cleveland Metro Life Flight
Metro Life Flight is committed to providing the highest level of care and safety to patients.
To request service, please contact our 24-Hour Flight Communications Office at 216-957-5433 or toll-free 800-233-5433.
Metro Life Flight
PUBLIC NOTICE:
The Commission on Accreditation of Medical Transport Systems will conduct an accreditation site visit of Metro Life Flight on October 1 & 2, 2020. The purpose of the site visit will be to evaluate the program's compliance with nationally established medical transport standards. The site visit results will be used to determine whether, and the conditions under which accreditation should be awarded to the program. CAMTS accreditation standards deal with issues of patient care and safety of the transport environment. Anyone believing that he or she has pertinent or valid information about such matters may request a public information interview with the CAMTS site surveyors at the time of the site visit. Information presented at the interview will be carefully evaluated for relevance to the accreditation process. Requests for public information interviews must be made in writing and sent to CAMTS no later than 10 business days before the site survey begins. The request should also indicate the nature of the information to be provided during the interview. Such requests should be addressed to:
Office of the Executive Director
Commission on Accreditation of Medical Transport Systems
PO Box 130
Sandy Springs, SC 29677
The Commission will acknowledge such written requests in writing or by telephone and will inform the program of the request for an interview. The Commission will, in turn, notify the interviewee of the date, time and place of the meeting.
This notice is posted in accordance with CAMTS requirements and shall not be removed until the site visit is completed.
---
Metro Life Flight is a not-for-profit, CAMTS-accredited, air and ground critical care transport service. Since its inception in 1982, our priorities have always been to provide the highest level of care to those in need while implementing the highest safety standards in the industry.
With three helicopters, two critical care ground ambulances, and two ALS ambulances based throughout the region, Metro Life Flight is readily accessible to the communities we serve throughout Northern Ohio. We work closely with our pre-hospital partners and referring hospitals and strive to provide ease of access through our auto-launch and auto-accept programs.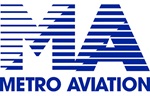 Metro Life Flight's aircraft are operated by Metro Aviation Incorporated, who hold a FAA Part 135 certificate for aviation operations.
How Metro Life Flight is Different...
Safety
Two instrument rated pilots onboard each flight in order to maximize safety and enhance the ability to fly in adverse weather conditions
Helicopters are equipped with dual-engines, instrument flight (IFR) capability, GPS approaches into local hospitals, autopilot, night vision goggles, terrain awareness warning system, cockpit voice and data recorders, satellite tracking and on-board weather radar
Our Medical Team
Helicopters staffed with flight physicians, acute care nurse practitioners and flight nurses
Critical care ground ambulances staffed with nurses and critical care paramedics
ALS ambulances staffed with two paramedics
Air and ground critical care teams carry emergency blood products (liquid plasma AND packed red blood cells) on every mission which reduces bleeding and can significantly improve outcomes for critical patients
Lifesaving procedures such as rapid sequence intubation, surgical cricothyroidotomy, chest tube insertion and pericardiocentesis
Utilization of portable ultrasound to assess patients and guide their care
Our Communications Center
Located on-site at MetroHealth Medical Center
Staffed with communication specialists who live locally and are knowledgeable about the region
Cost
Not-for-profit organization that offers a higher level of service for a significantly lower cost than other air medical programs
Patients benefit from MetroHealth's pre-negotiated rates with medical insurance companies, and discounts are offered to uninsured patients based on family income and the county in which they reside
Patients are only charged out of pocket up to their co-pay or deductible
Metro Life Flight – The Difference is Critical