Cleveland Metro Life Flight
Cleveland Metro Life Flight provides the highest level of care to those in need, with the highest safety standards in the industry.
To request service, please contact our 24-Hour Flight Communications Office at 216-957-5433 or toll-free 800-233-5433.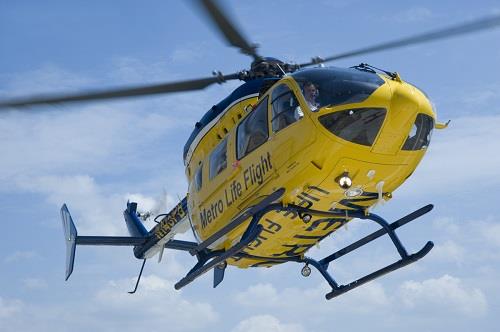 Life Flight
As the first air medical program in the area, Cleveland Metro Life Flight has remained committed to Northeast Ohio. Since its inception in 1982, our priorities are to provide the highest level of care to those in need while implementing the highest safety standards in the industry.
Each Metro Life Flight mission is completed with two pilots, both instrumented-rated, to maximize safety and enhance ability to fly in difficult weather conditions. Furthermore, our advanced medical crew consists of flight nurses, advanced certified nurse practitioners and physicians.
Thanks to this impressive group of dedicated employees as well as to all of our referring institutions and EMS partners, we are proud of our history and look forward to many more years serving our communities.
With three helicopters based in the communities, a critical care ground unit based at MetroHealth and the support of The MetroHealth System, we work closely with EMS and referring hospitals. We continually strive to provide ease of access to all of our partners through our auto-launch and auto-accept programs.
How is Metro Life Flight Different?
Metro Life Flight Flies with a dual-pilot team with IFR (instrument flight rules) and NVG (night vision goggles) capabilities to maximize safety
Two units of blood carried on each mission
Highly trained medical teams perform life and limb saving interventions such as:

Endotracheal intubation
Surgical cricothyroidotomy
Chest tube insertion
Pericardiocentesis
Blood transfusions
Ultrasound to identify pneumothorax, cardiac tamponade, intra-abdominal bleeding, and fetal status
Ability to transport specialists to scenes for emergent situations and consult critical care experts at MetroHealth
Request an Appearance
Community involvement is very important to Metro Life Flight and we strive to accommodate the many requests we receive for a Metro Life Flight helicopter visit; however, our main objective is to be readily available to meet the needs of the critically ill patients.
Cleveland Metro Life Flight is unable to attend events such as school or university visits, and church or scouting events.
For consideration, the following criteria must be met:
Request must be submitted 45 days prior to event
If aircraft is being requested, the requester must include the contact information (name and phone number) of their public safety official (i.e., fire department) to assist with the landing zone
Event attendance must exceed 75 people
Request an Appearance