Serving Families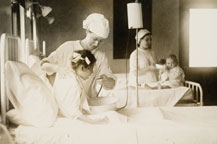 At the turn of the 20th century, mothers struggled to protect their families from deadly diseases such as tuberculosis, smallpox, typhoid, diphtheria, and scarlet fever. In 1900, nearly 1,000 cases of smallpox were reported in Cleveland. The year before, in 1899, City Hospital built a new Children's Hospital to care for the special needs of children. The cost was $35,565.
In 2006, MetroHealth unveiled a $2 million renovation of its Pediatric Intensive Care Unit (PICU), supported in part by government funding and philanthropic support. With redesigned interior space, comfortable sleeping accommodations for parents, and new technology, including television sets that are maneuverable to the crib-side or even to the ceiling to accommodate children who must remain prone, the PICU is dedicated family-friendly space in the Children's Hospital at MetroHealth.
As Cleveland's only Level I trauma center for adults and children, the PICU is a place where many families face difficult recoveries from serious injury or illness. A special sedation room is intended as a peaceful place for hospitalized children undergoing stressful procedures. With the oldest university affiliated Child Life and Education program in the country, MetroHealth employs child life specialists who work closely with families to help them cope with the stress and fear of intensive care and hospitalization. Newly published evidence suggests that child life services may help reduce the length of hospital stays and decrease the need for pain-reducing medications.
MetroHealth's Comprehensive Care Program is one of few in the country to provide primary and developmental health care to children with complex medical issues and multiple developmental challenges, such as Down's syndrome and muscular dystrophy.
Specializing in premature births and multiple deliveries, MetroHealth has one of the city's largest neonatal intensive care units (NICU). And with the largest fetal-medicine specialty group in Cleveland, MetroHealth continues to receive national attention for its management of high-risk pregnancies.
More Information