Leading Medical Education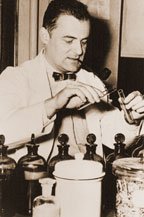 MetroHealth's commitment to research and discovery finds its roots in the 1850s with a partnership that existed between City Hospital and physicians from Cleveland Medical College (which later became Case Western Reserve University School of Medicine). The staff was deeply interested in understanding causes of disease and developing new treatments. In fact, in the 1890s, City Hospital became the first hospital in Cleveland to conduct a systematic study of pathological anatomy and autopsy. Later, in 1916, City Hospital was the only hospital in the nation to devote an entire ward to the study of pharmacology. Over the decades, this commitment to research led to important discoveries in the prevention and treatment of tuberculosis and polio, use of penicillin, and the link between strep throat and rheumatic heart disease.
The formal affiliation that exists today between MetroHealth and Case Western Reserve University School of Medicine dates back to 1914. But two decades before that, City Hospital physicians were actively involved in the education of future generations of physicians. Around 400 residents receive training at MetroHealth each year.
Millions of dollars in research funding support basic scientists, epidemiologists, and clinical investigators who form interdisciplinary teams to bring discoveries from the laboratory bench to the patient bedside. The Center for Health Care Research and Policy and the Center for Reducing Health Disparities focus research efforts on finding more cost-effective approaches to treatment and the management of chronic diseases.
MetroHealth researchers are nationally known for linking basic research and clinical discovery in the treatment of metabolic disorders, particularly kidney disease and diabetes. For example, maternalfetal specialists are studying fat metabolism in pregnant women and are advancing the nation's understanding of how obesity and diabetes in pregnancy impacts the next generation of babies and children. The use of Pea Pod and Bod Pod technology, scientifically known as pediatric and adult air densitometry, provides a research opportunity for physicians to focus on measuring increased fatty tissue as a risk factor for both mother and baby. The research helps to identify more effective ways to target and treat pregnant women and potentially avoid the complications their babies may face later in life due to prenatal exposure to maternal metabolic changes associated with obesity and diabetes.
More Information