Research that Rebuilds Lives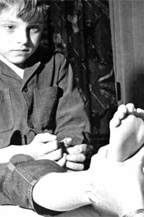 In the 1950s, MetroHealth led the nation in research and treatment of the paralyzing disorder known as polio. In 1954, the National Foundation for Infantile Paralysis designated City Hospital as a National Respiratory Care Center, the third largest of 13 polio centers in the country. At the peak of the polio epidemic, 32 iron lungs were in operation, helping patients to survive. And, the physicians at City Hospital were among the first in the nation to prescribe physical therapy for polio patients to help maintain movement and muscle tone and aid in the recovery of paralyzed limbs.
How appropriate that decades later, MetroHealth still continues to pave the way for forward-thinking rehabilitation treatments. MetroHealth is partnered with Case Western Reserve University and the Stokes Veterans Administration Medical Center in the Cleveland FES Center, where pioneering research in FES is receiving international attention. FES technology is used to help paralyzed patients move their arms and hands, walk, regain bladder and bowel control, and breathe without mechanical ventilation. New research applications are helping patients with paralysis due to stroke, multiple sclerosis, and other neurologic and muscular diseases. The technology is also improving prosthetic use in amputees.
A brain injury rehabilitation unit provides more family-centered care during the long recovery process. Private philanthropy allowed for an expansion of programs in driver evaluation and training after disability, art therapy, and the services rendered by the Benjamin S. Gerson Family Resource Center, an endowed center to facilitate access to community programs and resources for people with disabilities.
More Information