Expert Ear, Nose and Throat Care in Northeast Ohio
Medical and surgical expertise in the treatment of ear, nose and throat disorders, as well as common head and neck issues.
To schedule an appointment, call 216-778-5791.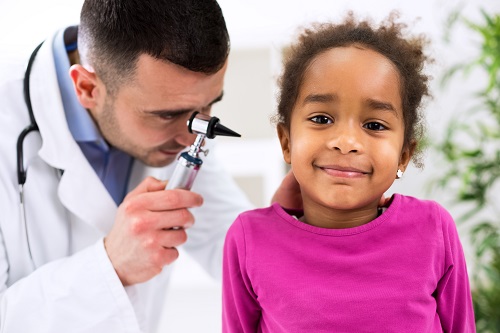 Ear, Nose and Throat (Otolaryngology)
Otolaryngologists are physicians who are trained to medically and surgically manage some of the most common illnesses that can impact both adults and kids, including:
Allergies
Cancers of the head and neck
Chronic ear infections
Dizziness
Hearing loss
Hoarseness
Nosebleeds
Sinus disorders
Snoring and sleep apnea
Swallowing disorders
Throat disorders
Areas We Treat
Our doctors focus on four key areas of the body:
Ears. Our doctors can use medical and surgical techniques to address hearing loss. They can also assist with ear infections, balance disorders, ear noise (tinnitus) and nerve disorders.
Nose. Chronic sinusitis affects about 35 million people each year, making it one of the most common health complaints in the country. Caring for the nasal cavity and sinus area is one of the primary skills of otolaryngologists.
Throat. Disorders of the throat can impact your ability to communicate and/or swallow. Our doctors are adept at addressing these issues.
Head and neck. This area of the body contains important nerves that control sight, smell, hearing and facial movement. Our doctors can deal with common head and neck issues, including infections, tumors, facial trauma and facial deformities.
Do You Need an Otolaryngologist?
Otolaryngologists complete at least five years of surgical residency training after they finish medical school. They spend one year in general surgery training and four years in otolaryngology (head and neck surgery). Following residency training, some otolaryngologists elect to complete advanced training in a subspecialty, called a fellowship. Fellowships often include an additional one to two years of training. Examples of fellowships can include:
Head and neck surgery
Rhinology/allergy
Voice disorders
Cosmetic and reconstructive plastic surgery
All of the otolaryngologists at MetroHealth belong to the American Academy of Otolaryngology—Head and Neck Surgeons (AAO-HNS). All of our doctors are board-certified. And all of our doctors have additional training and expertise. Our nurses are also specially trained in otolaryngology.
Our entire team is proficient in explaining medical concepts in terms you can understand. When you choose MetroHealth for care, you'll work with a doctor who will take the time to get to know you, your medical history and your health concerns. And you'll have the opportunity to ask questions about your test results and your treatment plan.
MetroHealth Collaboration
Our ENT doctors are skilled medical professionals. And they're surrounded by the power of The MetroHealth System. If you're dealing with a complex medical issue, such as cancer of the throat, your ENT doctor will work with our imaging department to obtain clear images of your cancer. And your doctor will partner with our chemotherapy team to get you the therapies you need.
Additionally, our ENT team can handle inhalant allergies. Allergies to pollen, dust, pet dander and mold can be treated by our experts using a variety of methods, including allergy drops.
Your otolaryngologist can also communicate directly with your primary care doctor about your test results, treatment plan and follow-up care needs. All of the information about your visit is recorded in your electronic chart, which means you don't need to remember to update your doctor directly.
Our respected and well-trained team is ready to help. To schedule an appointment, call 216-778-5791.
Graduate Medical Education
The MetroHealth System is committed to providing high-quality education and training programs in residency, fellowship and advanced nursing.
Learn more about our programs