Leading the Way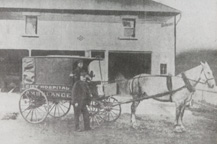 The first City Hospital ambulance relied on single horsepower, and transported mostly those suffering from tuberculosis and other contagious diseases. Today, the power of 1,350 horses keeps the most advanced critical care helicopters airborne, delivering critically ill and injured patients to lifesaving care.
Celebrating service to the community since 1987, Metro Life Flight is the most recognizable symbol of MetroHealth's leadership in trauma. Through its fleet of helicopters, ground units, and fixed-wing aircraft, Metro Life Flight transports critically ill patients from accident scenes and community hospitals to tertiary centers throughout northern Ohio, with more than 2,200 transports a year. With its unique staffing model of a physician and nurse on every flight, along with two pilots, Metro Life Flight brings the highest level of emergency and trauma care into the field and the air.
In 2006 MetroHealth earmarked $20 million for the Metro Life Flight program to replace the fleet with three new helicopters featuring the most advanced aviation technology. This decision reaffirmed MetroHealth's leadership as the region's only Level I trauma center and burn center for adults and children. In recent years, MetroHealth invested more than $100 million in trauma services, including in a Critical Care Pavilion, featuring the largest emergency department in Cleveland, new trauma and surgery suites, and teams of surgeons equipped to respond to trauma every hour, every day.
MetroHealth was also recertified by the Joint Commission on Accreditation of Healthcare Organizations (JCAHO) as a Primary Stroke Center, recognizing the comprehensive care offered in the treatment of acute stroke through recovery and rehabilitation.
The MetroHealth Emergency Department provided services to nearly 100,000 patients every year. The emergency medicine residency program is one of the most popular in the nation, responsible for training new generations of critical care physicians and nurses, many of whom train on Metro Life Flight.
More Information
Stroke and Cerebrovascular Center