Lifelong Care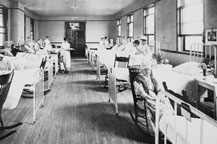 The average lifespan in the early 1800s was 45 years. Today, a substantial number of MetroHealth patients are over the age of 90, in good health, and cared for by one of the largest teams of geriatricians in the Midwest. In a continued commitment to care for seniors, MetroHealth operates the Senior Health Outpatient Program at its Old Brooklyn Health Center.
More than $12 million in state, county, and philanthropic funding was received in 2006 to develop this innovative program to optimize the health, independence, and quality of life for seniors: a one-stop-shop resource providing preventive and wellness care, geriatric and specialty care. A skilled nursing facility is also part of The MetroHealth System's options for care; The Elisabeth Severance Prentiss Center for Skilled Nursing is located near the medical center, just about a mile from the Old Brooklyn facility.
In MetroHealth's history, there is precedent for innovation in caring for the elderly. The same site where MetroHealth cares for seniors was once the location for Cooley Farms, established in the early 1900s to house elderly married couples and provide them with medical care in a fresh and airy environment. There was a fireplace with engraved words above it, from the poet Robert Browning: "Grow old with me, the best is yet to be." A century later, the best is still being redefined.