Giving to the Vision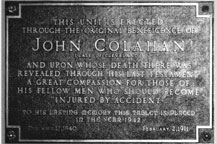 MetroHealth's very first emergency department, the Colahan Memorial Pavilion at City Hospital, dedicated in 1939, was built out of the philanthropic vision of John Colahan, a wealthy real estate owner on Cleveland's west side. Before he died in 1911, Colahan saw the need for a hospital dedicated to the care of industrial accident victims in Cleveland's Flats. He ordered that some of his land be sold after his wife's death to build that vision and, after some litigation, $80,000 of Colahan's estate was contributed to the Pavilion that bore his name next to the City Hospital Administration Building. According to The Cleveland News, May 1, 1939, it was the realization of the "dream" of the philanthropist to "admit accident cases exclusively and be equipped to offer immediate treatment of emergency injuries."
Today, MetroHealth relies on the vision and generosity of private donors and foundations, in addition to public funding, to support advances in medical care. In 2006, $5.6 million in philanthropic and government support was realized. Significant funding was attained through collaborative partnerships, bringing together organizations and advocates committed to improving community health.
Most noteworthy in 2006 was a collaboration that attracted a $500,000 grant from the Robert Wood Johnson Foundation. The 2006 Local Initiative Funding Partners program was highly competitive, with only 12 grants being awarded among 219 applicants. MetroHealth and The Legal Aid Society of Cleveland will expand a highly successful family advocacy program with the matching support of local philanthropy. Headed by Thompson Hine LLP, the lead local funder, this broad-based funding partnership includes: Benesch, Friedlander, Coplan & Aronoff LLP; Calfee, Halter & Griswold LLP; Eva L. and Joseph M. Bruening Foundation; The Callahan Foundation; The Cleveland Foundation; The George Gund Foundation; Saint Luke's Foundation of Cleveland, Ohio; and United Black Fund of Greater Cleveland Inc. In total, $1.27 million has been raised to fund the new Community Advocacy Program (CAP).
CAP provides expanded legal support to the team of pediatricians, child psychologists and social workers at MetroHealth's community health centers, who advocate for children and their families to ensure that their nutrition, housing, safety and health insurance needs are met during and beyond a child's hospital stay or outpatient office visits. The 2006 funding also applied these legal advocacy services to elderly patients, Spanish-speaking and other immigrants, and individuals who have returned to the community from prison, to ensure that basic social needs are addressed so that MetroHealth staff can more effectively prevent and treat health problems.
Find out more about MetroHealth's current philanthropic programs.