Comprehensive Pediatric Care
From primary care to a range of specialties, MetroHealth offers compassionate care for the smallest patients.
To schedule an appointment with a pediatric provider, call 216-778-2222.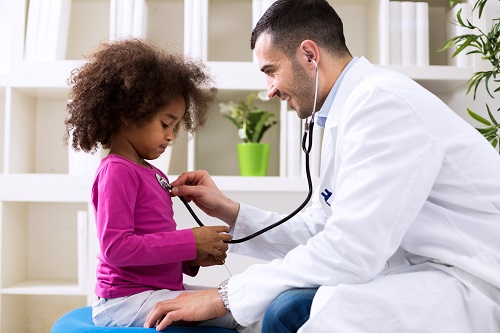 Pediatrics
Routine, ongoing pediatric care is essential for children. Regular checkups are key for everything from maintaining your child's immunization schedule, to tracking growth, to fending off childhood disease.

At MetroHealth, we have a team of dedicated pediatricians ready to work with your family. We're dedicated to improving the health and well-being of infants, toddlers, children and adolescents, and we're a leader in providing expert medical care.
Our Team
Our board-certified pediatricians, specialists and nurse practitioners provide highly skilled and compassionate care for children throughout the Cleveland Metro area. We're passionate about working with children and families.
MetroHealth is also proud to be the home of Robert Needlman, MD, an internationally-renowned child development expert and revising author of Dr. Spock's Baby and Child Care. Dr. Needlman specializes in autism, developmental pediatrics and attention deficit disorder—and his knowledge and expertise has proven invaluable to the entire pediatrics staff.

Our pediatric primary care services include:
Immunizations
Management of chronic and long-term diseases
Nutrition and exercise services for overweight children
Physical exams, including back-to-school physicals
Vision and hearing screenings
Your child's pediatrician can refer your child to a pediatric specialist in our system for advanced, state-of-the-art care that you can trust. And that specialist will be in close contact with your child's pediatrician, so nothing will be dropped.
Pediatrics Care When You Need It
Whether your family is dealing with minor childhood illness or injury or something more serious, we offer fast appointments so your little one can start feeling better sooner. You can visit the pediatric MetroExpressCare daytime walk-in clinic, and your child will be seen by a board-certified pediatrician.

After hours, you can take your child to one of our MetroExpressCare after-hours walk-in clinics and get help for your child's minor illnesses and injuries.

MetroHealth also has you covered if your child needs to be admitted to the hospital. From our NICU to our pediatric inpatient unit, family-centered rounds allow the family to stay involved in the care of their child. Our Child Life specialists focus on the children and their families to help them cope with the hospital experience, to minimize the fear and stress of hospitalization.

The bottom line: Your child can get care—no matter what time it is—through MetroHealth.
The Oscar Hispanic Clinic (Servicios para Niños y Adolescentes)
At MetroHealth, we believe that all kids deserve compassionate primary care from a qualified pediatrician. But we also know that some kids are left out when it comes to ongoing care. That's why we offer a clinic just for the Spanish-speaking children we serve in Cleveland.

Named in memory of Dr. Oscar Gumucio, our clinic, located in the MetroHealth Medical Center and Thomas F. McCafferty Health Center, offers a bilingual staff to meet the medical, psychological and social needs of children and adolescents. The Oscar Hispanic Clinic offers both well and sick care, including:
General health care and well visits
Illness-related care, including care for asthma and acne
Mental health and behavioral services
Nutrition education and counseling
Reproductive health care, including birth control, STD testing and treatment, and HIV testing
Graduate Medical Education
The MetroHealth System is committed to providing high-quality education and training programs in residency, fellowship and advanced nursing.
Learn more about our programs