Vascular Surgery & Endovascular Therapy
Compassionate, comprehensive, and individualized care of vascular patients.
Vascular Surgery at MetroHealth
Vascular specialists at the MetroHealth Heart & Vascular Center are highly trained in the diagnosis and treatment of patients with vascular disease.
Using the most advanced medical techniques and technologies, our vascular surgery and medical teams provide complex care for patients with conditions that affect the body's blood vessels, including arteries, veins and the lymphatic system.
The division of Vascular Surgery & Endovascular Therapy provides a wide range of medical services, from routine physical exams and treatments to advanced minimally invasive endovascular procedures, vascular surgeries and post-treatment care.
What is Vascular Disease?
Vascular disease is often referred to as a silent threat, as the symptoms of vascular disease may be sudden or may not present themselves at all. Vascular disease includes any medical condition that affects the circulatory system, including diseases of the arteries, veins and lymph vessels. A few of the common vascular conditions we treat include:
Peripheral artery disease
Aortic aneurysm
Carotid artery disease
Deep vein thrombosis
Varicose veins
Diabetic foot care
Why Choose MetroHealth for Vascular Care
At the MetroHealth Heart & Vascular Center, patients benefit from the coordination of experts in all fields of vascular care, from diagnosis and management of vascular disease to complex surgeries and treatments. Because of the expertise of our surgical teams and our experience in highly specialized procedures and advanced techniques heart & Vascular Center is a tertiary referral center for patients who come to us from all parts of NE Ohio. Services we provide:
The MetroHealth Limb Preservation Focus Group features highly trained experts dedicated to healing wounds, saving limbs and preventing amputation. Several surgical specialists and medical specialists are involved. Surgical expertise is provided by vascular surgery, orthopedics, plastic surgery and podiatry. Medical disciplines include physical medicine, infectious disease and endocrinology.
The MetroHealth Peripheral Vascular Laboratory features full-service diagnostic testing accredited by the Intersocietal Commission for the Accreditation of Vascular Laboratories.
Our physicians, vascular surgeons and endovascular specialists pride themselves on delivering a timely and accurate vascular diagnosis followed by an effective, safe treatment plan to quickly restore healthy blood flow.
Our therapeutic plans are based on the following:
State of the art diagnostic imaging
Evidence-based treatments
Endovascular treatments
Minimally invasive techniques
Advanced open surgical procedures
Post-treatment follow-up
Do you have vascular disease?
Are you more than 70 years of age?
Are you more than 50 years of age with a history of diabetes or smoking?
Are you under the age of 50 with a history of diabetes and other risk factors such as obesity, high blood pressure or coronary artery disease?
If you have any of these risk factors, talk with your physician to see if you are a candidate for a vascular screening test, or call Metrohealth Heart & Vascular Center at 216-778-2328 (216-778-BEAT).
Endovascular Care for Vascular Disease
"Endovascular" means that treatment is performed through your blood vessels rather than requiring traditional open surgery. In an endovascular procedure, your doctor inserts a long, thin tube called a catheter through a small incision in your groin or arm. The catheter is guided through the blood vessels to the point of treatment.
Many people receive endovascular treatment because they have peripheral arterial disease (PAD). PAD is a common circulatory problem in which narrowed arteries reduce blood flow to the limbs.
Our specialists offer a variety of progressive endovascular therapies for vascular problems, ranging from the simplest to the most complex. For those who are candidates, these procedures may be a lower risk, effective alternative to traditional open surgery.
Our team approach to vascular care gives us the ability to collaborate and consider each case from different angles allows for a highly targeted approach to the treatment of vascular diseases. Endovascular procedures are minimally invasive and may result in less discomfort, faster healing and shorter recovery times for the patient.
Conventional Vascular Surgery
Our team performs many "conventional" vascular surgeries each year. We offer complete care for your vascular condition, from your initial visit, to diagnostic testing, endovascular intervention or open surgery– most importantly – ongoing lifelong post-treatment care. Often, the conventional surgery is combined with the endovascular therapy which allows us to expand the scope of treatment without expanding the surgical procedure.
Common vascular conditions that we treat include:
Aortic aneurysms
Carotid artery disease and strokes, including carotid endarterectomy and stenting
Peripheral artery disease (PAD)
Claudication or pain in the legs while walking or exercising
Ulcers or sores on the legs
Deep vein thrombosis (DVT)
Varicose veins
Limb Preservation
Vascular diseases – including diabetes and peripheral artery disease (PAD) – account for more than half the amputations in the United States. With early intervention and expert care, many of these limbs can be saved.
The MetroHealth Limb Preservation Focus Group offers highly skilled specialists from multiple fields, along with the latest treatments and technology for limb-threatening conditions. If you critical limb ischemia and are at risk for an amputation our multi-disciplinary group can help.
Vein Procedures
Whatever your vein condition, we offer the expertise and technology to improve your vascular health.
In the not too distant past, vein surgery was invasive and mandated a few days in the ospital! Today, all our procedures are performed by board-certified vascular surgeons on an outpatiet basis.
Vein surgery has become so "minimally invasive its generally done with local anesthesia.
Our expertise means that we treat not only the visible surface issues, but also the underlying vein conditions that might be leading to your condition. Our vein care solution is brought to you in a comfortable outpatient setting.
We offer a wide range of innovative treatment options for varicose veins and other vascular issues, including injection sclerotherapy, radiofrequency vein closure and minimally invasive vein surgery.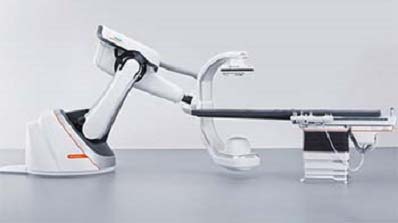 Hybrid Operating Room
MetroHealth is the only hospital in Cleveland with the Siemens ARTIS Pheno robotic angiography system.
Learn more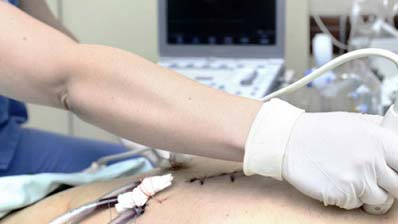 Non-Invasive Vascular Lab
Ultrasound is a safe, noninvasive diagnostic test that uses high frequency sound waves to create images of various parts of the body.
Find out more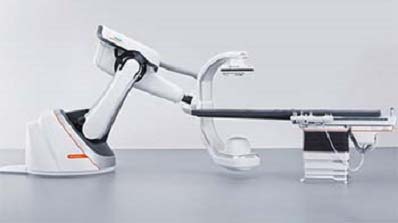 Hybrid Operating Room
MetroHealth is the
only
hospital in Cleveland with the Siemens ARTIS Pheno robotic angiography system.
Learn more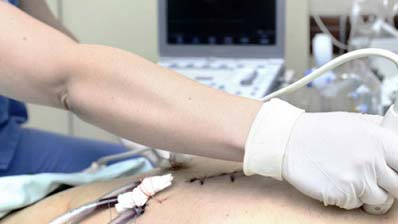 Non-Invasive Vascular Lab
Ultrasound is a safe, noninvasive diagnostic test that uses high frequency sound waves to create images of various parts of the body.
Find out more
Our Doctors/Medical Providers