Vascular Surgery & Endovascular Therapy
Compassionate, comprehensive, and individualized care of vascular patients.
Vascular Surgery at MetroHealth
MetroHealth's vascular surgeons are dedicated to our patients and residents of Northeast Ohio. Our goal is to provide patient-centered, comprehensive vascular care using evidence based medicine for diagnosis, treatment, and maintenance of an excellent quality of life for our patients.
What is vascular surgery and what do vascular surgeons do?
Vascular surgeons are experts in the care of the vast network of blood vessels in human body; however, vascular surgery is not heart surgery.
Once a sub-specialty of general surgery, vascular surgery has morphed into a field of medicine onto itself. Established well over 40 years ago, after recognizing that certain conditions required highly specialized doctors, vascular surgeons emerged as the masters of the blood vessels.
Routinely, vascular surgeons take care of conditions varying from aortic aneurysms to varicose veins. Vascular surgeons perform traditional open surgical procedures as well as minimally invasive procedures such as angiograms, arterial stenting, and vein ablation in both hospital and ambulatory settings. Vascular surgeons also manage a number of chronic conditions involving blood vessels, chronic wounds, and limb swelling.
Why do I need a vascular surgeon?
If your doctor thinks you need to see one of our vascular specialists, you may have a condition that requires highly specialized care.
The conditions that vascular surgeons treat include but are not limited to the following:
Carotid Artery Diseases
Cerebrovascular insufficiency
Stroke
Vertebrobasilar insufficiency
Transient ischemic attack (TIA)
Aneurysms
Abdominal aortic aneruysm
Thoracic aortic aneurysm
False aneurysm
Mycotic aneurysm
Peripheral Vascular Disease
Peripheral arterial disease
Arterial insufficiency
Leg ulcers
Leg cramps
Intermittent claudication
Varicose Veins/Vein Disorders
Venous insufficiency
Leg swelling/lymphedema
Chronic leg ulcers
Deep vein thrombosis
Post-phlebitic syndrome
Spider veins
Diabetes foot pathology
Diabetic foot ulcer
Diabetic neuropathy
Vascular surgery emergencies
Leaking/ruptured aneurysm
"Cold leg"
"Blood clot"
Infected diabetic foot
Cresendo transient ischemic attack
Other Conditions
Issues with hemodialysis access
Creation of new dialysis access
Maintenance of existing access
Placement of and removal of temporary dialysis catheters
Referrals from your doctor enable us to match you with the right specialist. To schedule an appointment, call 216-778-4811.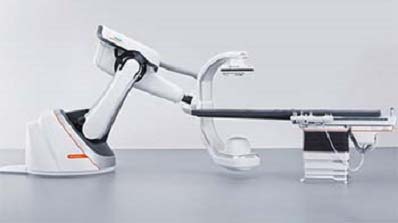 Hybrid Operating Room
MetroHealth is the only hospital in Cleveland with the Siemens ARTIS Pheno robotic angiography system.
Learn more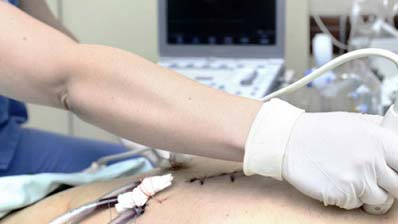 Non-Invasive Vascular Lab
Ultrasound is a safe, noninvasive diagnostic test that uses high frequency sound waves to create images of various parts of the body.
Find out more
Our Doctors/Medical Providers