Expert Care for Brain Tumors and Skull Base Tumors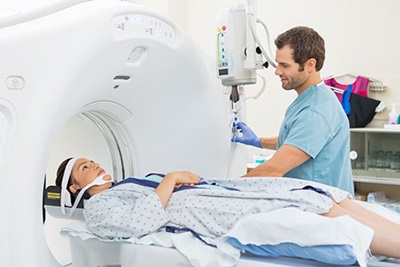 MetroHealth's Brain Tumor Specialists offer expert care in diagnosis, surgical care and treatment of brain tumors, both benign and malignant (cancerous) in adults. When collaboration is key to a good outcome, turn to MetroHealth for a comprehensive approach.
Our neurosurgeons are specially trained to diagnose and treat patients with brain tumors and other types of tumors of the nervous system.
All of our physicians are faculty members at Case Western Reserve University's School of Medicine.
Schedule an appointment today with a MetroHealth neurosurgeon.
Call 216-778-8822.
Our brain tumor specialists treat complex tumors in the brain and in the skull.
Brain tumors we treat:
Meningioma
Metastases - cancerous tumors that have spread to the brain from elsewhere in the body
Glioblastoma
Astrocytoma
Oligodendroglioma
Skull base tumors we treat:
Meningioma
Pituitary tumor
Acoustic neuroma
Metastases - cancerous tumors that have spread to the skull base from elsewhere in the body
Cholesteatoma
Chondrosarcoma
Chordoma
Dermoid tumor
Facial nerve tumor
Glomus tumor
Sinus and nasal cavity tumors
Spine Tumors
A Collaborative Approach for Each Patient's Unique Needs
No two brain tumors are alike. Some tumors can be treated with surgery. Some tumors require surgery, then radiation or chemotherapy. We tailor each patient's treatment to their specific needs.
Our skilled neurosurgeons collaborate with surgeons and physicians from various departments at MetroHealth to develop the right treatment plan for you.
If surgery is required, you will recover in our Neurocritical Care Unit or Critical Care Unit (NCCU). Your neurosurgeon and other specialists will care for you after surgery through recovery.
When It's Cancer. If your tumor is cancerous, your physicians will coordinate with The MetroHealth Cancer Center to guide you through diagnosis, treatment and recovery.
Our treatment goal is to make sure your cancer is caught early so that you have the best chance of recovery. We also continue to care for you after your cancer treatment is done, with continued support and cancer screenings.
Collaborative care. Because your tumor may affect how other parts of your body function, MetroHealth's neurosurgeons also work to develop comprehensive treatment plans with experts in:
Neuropathology
Neuroradiology
The Most Advanced Technology
MetroHealth's neurosurgeons use the most advanced approaches in caring for brain and skull base tumors.
Intra-operative navigation: MetroHealth's neuro-oncologists utilize intra-operative 3D imaging to deliver a fast and precise representation of your anatomy during surgery. Having this tool improves outcomes by making complex cases more effective, safe and accurate.
Immersive View: ImmersiveView Surgical Planning (IVSP™) generates precise Virtual Reality replicas of your anatomy from your own MRI and CT scans. This tool allows MetroHealth's surgeons to rehearse the operative approach to complex surgeries before the actual surgery.
BrainPath® Neurosurgery System: MetroHealth is a BrainPath® Center, and our neurosurgeons utilize this minimally invasive approach to more easily navigate between the natural folds and neural structures in the brain. This technology minimizes damage to surrounding brain tissue.
Endoscopic endonasal approach (EEA): For pituitary/anterior skull base tumors and repairs, MetroHealth surgeons use a minimally invasive approach to remove tumors and growthsthrough the nose. This is done to facilitate removal of pituitary / anterior skull base tumors and perform cerebrovascular fluid leak repairs.
Tumor Treating Fields (TTF) for Glioblastoma: Optune® is a non-invasive treatment that can help extend life expectancy patients with Glioblastoma. It is a wearable, portable, FDA-approved device used to treat glioblastoma multiforme (GBM). The device uses alternating electric fields to help slow the growth of the tumor. Patients wear the electrodes, similar to those used during EEGs, on their scalp.
Stereotactic Radiosurgery (SRS) / Gamma Knife
Schedule an appointment today with a MetroHealth neurosurgeon. Call 216-778-8822
MetroHealth and CWRU School of Medicine Affiliation
As a major teaching hospital in Northern Ohio, MetroHealth has maintained a tradition of excellence in academics and research. Intensive training for physicians and medical professionals is offered in neurological surgical specialties.
MetroHealth's Department of Neurological Surgery provides Case Western Reserve University (CWRU) School of Medicine students with the chance to learn and practice in multiple clinical settings. The curriculum offered in the Neurological Surgery program is viewed as an extension of the CWRU's academic and research expertise.
Source: https://case.edu/medicine/crsp/affiliations
Second Opinions
Receiving the diagnosis of a serious neurological condition can be overwhelming and leave you with more questions than answers, especially when a major surgery or procedure is involved.
If you are interested in receiving a second opinion about your diagnosis, The MetroHealth Department of Neurological Surgery offers patients the ability to see one of our specialists and help you determine the right next step for you.
Call 216-778-8822 to schedule your second opinion today.
Our Doctors/Medical Providers