Trust the Experts at MetroHealth for Cerebrovascular Neurosurgery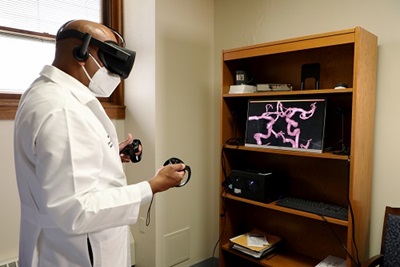 If you've suffered a stroke or aneurysm, or at risk for conditions that affect the vascular system in the brain, you need expert care. Rely on our skilled cerebrovascular neurosurgeons at MetroHealth to diagnose, treat and help you manage your conditions.
We customize our treatment for each patient, utilizing the most cutting-edge surgical techniques available, including gamma knife radiosurgery and endovascular approaches.
Schedule an appointment today with a MetroHealth neurosurgeon.
Call 216-778-8822.
Conditions We Treat
Our cerebrovascular neurosurgeons are highly trained surgeons who also teach at Case Western Reserve University's School of Medicine.
They treat the following conditions:
Brain aneurysm
Arteriovenous malformation
Cavernous malformation
Stroke (ischemic or hemorrhagic)
Dural arteriovenous fistulae
Carotid artery disease
Cranial nerve compression syndrome
Trigeminal neuralgia
A Collaborative Approach to Patient Care
MetroHealth's cerebrovascular neurosurgeons coordinate your care with experts from The MetroHealth System. This approach allows our physicians to create a unique treatment plan for each patient. These specialists will help you manage your blood pressure, diet, cholesterol levels and other lifestyle factors that can help improve your health after treatment.
Depending on your needs, our surgeons will work with specialists in Interventional Neuroradiology, Stroke Neurology and Vascular Surgery.
If you have a surgery, you will recover under the expert care of our Neurocritical Care Unit.
The Most Advanced Technology
MetroHealth's neurosurgeons use the most advanced approaches in caring for neurovascular conditions.
Intraoperative Angiography: MetroHealth's cerebrovascular neurosurgeons use this imaging technique to visualize blood flow and blood vessels during surgery to ensure normal blood flow has been restored.
BrainPath® Neurosurgery System: MetroHealth is a BrainPath® Center, and our neurosurgeons utilize this minimally invasive approach to more easily navigate between the natural folds and neural structures in the brain. This technology minimizes damage to surrounding brain tissue and has been used to remove large brain bleeds.
Gamma Knife Radiosurgery: Our surgeons have access to Gamma Knife radiosurgery to treat arteriovenous malformations.
MetroHealth also provides a complete stroke services at its Comprehensive Stroke Center.
Let MetroHealth's cerebrovascular experts help guide your care from treatment through recovery. To make an appointment, call <insert number.>


Leadership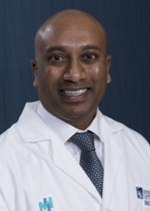 Deven Reddy, MD is an Assistant Professor of Neurosurgery at Case Western Reserve University School of Medicine.
He completed his neurosurgery training at the McMaster University School of Medicine (Canada) and underwent additional fellowship training in both cerebrovascular neurosurgery and neuro-oncology/skull base neurosurgery at University of Toronto (Canada).
He is board certified in neurosurgery by the Royal College of Physicians and Surgeons of Canada and a Fellow of the American Association of Neurological Surgeons.
He also holds a Master of Science in health research methodology with clinical epidemiology specialization from McMaster University.
His clinical practice focuses on the care of patients with:
Acoustic Neuroma
Brain Aneurysm
Brain AVM
Brain Tumors
Carotid Artery Disease
Cavernous Malformation
Pituitary Tumors
Stereotactic Radiosurgery
Trigeminal Neuralgia
Dr. Reddy is trained in the following surgical procedures:
Carotid Endarterectomy
Craniotomy (tumor/trauma/aneurysm/ vascular malformation)
Endoscopic Endonasal Approaches (pituitary/skull base tumors)
Microvascular Decompression
Neuro-endoscopy
Peripheral Nerve Surgery
Shunt Surgery
Spine Surgery
MetroHealth and CWRU School of Medicine Affiliation
As a major teaching hospital in Northern Ohio, MetroHealth has maintained a tradition of excellence in academics and research. Intensive training for physicians and medical professionals is offered in neurological surgical specialties.
MetroHealth's Department of Neurological Surgery provides Case Western Reserve University (CWRU) School of Medicine students with the chance to learn and practice in multiple clinical settings. The curriculum offered in the Neurological Surgery program is viewed as an extension of the CWRU's academic and research expertise.
Source: https://case.edu/medicine/crsp/affiliations
Second Opinions
Receiving the diagnosis of a serious neurological condition can be overwhelming and leave you with more questions than answers, especially when a major surgery or procedure is involved.
If you are interested in receiving a second opinion about your diagnosis, The MetroHealth Department of Neurological Surgery offers patients the ability to see one of our specialists and help you determine the right next step for you.
Call 216-778-8822 to schedule your second opinion today.
Our Doctors/Medical Providers