Virtual Reality Surgery: ImmersiveTouch Simulation
This new technology results in more precise surgical approaches, reduced surgery time and patients having access to the most advanced neurosurgical care available today.
More Precise Surgical Approaches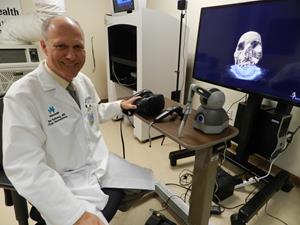 Neurosurgeons at MetroHealth use a revolutionary technology that allows surgeons to practice complex operations in a 3-D virtual reality (VR) environment.
This cutting-edge technology enables surgeons to practice on a specific patient's case prior to the real surgery, using information from the patient's CT scan, MRI and angiograms. Images are uploaded and the patient's anatomy is reconstructed in a 3-D model. The surgeon can then create a detailed surgical plan in virtual surgical reality.
The ImmersiveTouch surgical simulation technology represents a major shift in how virtual reality technology is delivered to surgeons.
Ben Roitberg, MD, chair of neurosurgery, brought the technology to MetroHealth. ImmersiveTouch Inc. will work with MetroHealth to develop and refine the technology to further enhance the virtual reality experience for surgeons.
Surgeons at MetroHealth can now discuss procedures with patients using the virtual reality headset, an iPad or desktop monitor, allowing them to explain the surgical procedure before the surgery takes place and provide additional educational material.
"The capability to visualize and carefully plan complex surgeries is essential to improving patient and surgeon interaction," said Dr. Roitberg. "Integrating virtual reality technology vastly improves our surgeons' ability to educate patients and their families and deliver optimal patient care.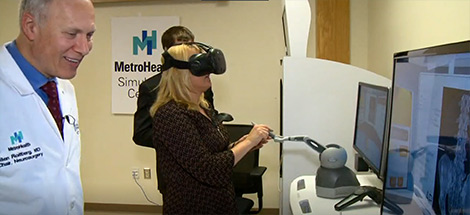 MetroHealth using virtual reality to practice neurosurgery
Imagine knowing your doctor already practiced your specific surgery before you even entered operating room. That's the goal of new virtual reality software that MetroHealth is now using.
Watch Dr. Ben Roitberg Explain the Technology