Delivering a Complete Picture of Health
At MetroHealth, top-notch imaging is a priority. We know the data provided by precision radiology is crucial, as it's the basis for many treatment plans.
To make an appointment at any MetroHealth imaging location, call 216-778-3456.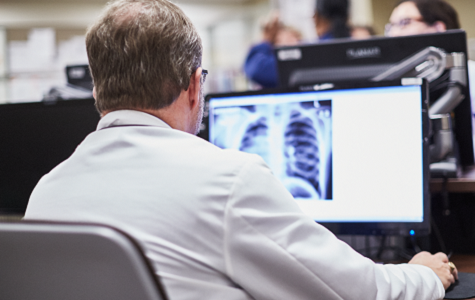 Radiology
Imaging helps us see conditions that aren't visible to the naked eye, and, in some cases, radiology intervenes to provide needed therapy. All of our technologists are certified and registered, and we all work together toward one goal: to provide the highest level of diagnostic and therapeutic imaging patient care.
Diagnostic Radiology Services
MetroHealth offers many kinds of diagnostic imaging. Whether you need a routine screening or imaging due to an acute health issue, we have you covered.
Our diagnostic services include:
Breast imaging: We offer traditional mammography and ultrasound. But unlike many other clinics, we offer 3-D digital tomosynthesis as part of our routine screening mammography program. We also offer automated breast ultrasound screening (ABUS). These tools enable us to look through dense breast tissue in ways that older technologies cannot.
Magnetic resonance imaging (MRI): Our MRI team uses state-of-the-art equipment that gives us the most detailed and accurate images possible. Plus, we have an open MRI at our Middleburg Heights facility. This machine provides high-quality images, without the claustrophobic feelings that often come with a traditional MRI machine.
Digital diagnostic x-ray and high-definition ultrasound: If you need an x-ray or ultrasound, never fear. We are your radiologist in Cleveland. You can get x-rays and ultrasounds at our facilities all over the greater Cleveland area.
Computed tomography (CT) scan: MetroHealth has a number of CT tools. We have a PET-CT and a 256-slice CT scanner. These cutting-edge tools provide amazing, clear images and can be used for inexpensive, high-quality lung screening studies. PET-CT can also be used for cardiac calcium scoring, which helps determine the risk of heart attack.
MetroHealth patients also have access to specialties offered by Cleveland Clinic Children's and Akron Children's pediatric specialists through a collaboration among the three institutions. Services from both health systems are offered at MetroHealth's main campus.
The collaboration allows the hospitals to share resources and provide the best care possible. Cleveland Clinic Children's provides specialty care to MetroHealth's pediatric patients in pediatric gastroenterology, hematology oncology, radiology and urology. Akron Children's pediatricians offer specialty care for MetroHealth in pediatric cardiology, cardiothoracic surgery, general surgery, nephrology and critical care.
Interventional Therapies
Looking for an alternative to conventional surgery? Interventional radiology may be an option. This technique allows your doctor to both diagnose and treat a variety of conditions using image-guided methods. Your doctor will use x-rays, ultrasound or CT scans to guide your therapy. Typically, that means cuts are smaller—if necessary at all. And it can mean that your medical issue is addressed directly, without damaging nearby tissues. Plus, shorter or even no hospital stays are common.
Your MetroHealth doctor might use interventional radiology for:
Aneurysm repair
Chemotherapy
Venography
Epidural injections
Nerve blocks
Interventional neuroradiology can also be vital during a stroke to minimize—or in some cases, eliminate—the debilitating effects caused by a stroke. At MetroHealth, our world-class Stroke Center is known for getting patients into treatment as quickly as possible. Interventional radiology plays a big role in that department's success.
We also offer scheduled and emergency interventional therapies seven days a week. That could be vital if you're undergoing dialysis or chemotherapy. If a PIC line or dialysis line gets clogged on the weekend, you don't have to wait. Our interventional radiologists are able to help right away.
Clinical Radiology Expertise and Collaboration
At MetroHealth, our interventional radiologists are leaders in their field. They are all board-certified physicians, and also have certifications in their subspecialties. When you come to us for a radiology appointment, we'll take the time to explain just how the test works, and answer any questions you have. And if anything about a test or a procedure makes you uncomfortable, don't be afraid to speak up. We're here to work with you to make you as comfortable as we can.
In fact, even before you step into our offices for an appointment, we'll be working for you. We work with your doctor and your referring providers to determine what screenings, tests and procedures will be right for you.
That collaboration could be vital if you come to us with a cardiology concern. We'll work with your cardiologist or surgeon to determine just what tests and treatments will be right for you. And we offer a number of solutions your doctor might want, including angioplasty, stent placement and embolization. You can find out more about how those tests work by visiting our cardiology page.
No matter what brings you to the Department of Radiology, you'll receive personalized attention, and you'll work with people who care. Yes, we have state-of-the-art equipment. And we specialize in state-of-the-heart communication. Our experienced and qualified staff will address any concerns you might have, and we will provide the best possible care.
To make an appointment at any MetroHealth imaging location, call 216-778-3456.
---
Senior Health and Wellness Radiology Services
Plain film diagnostic x-ray and bone density services are available on the first floor of the Old Brooklyn Health Center.
Walk-in appointments are available Monday - Friday from 8:30 a.m. to 5:00 p.m.
Please check in at the Senior Health Clinic desk to register. Please call 216-957-3897 for more information on these services.
Graduate Medical Education
The MetroHealth System is committed to providing high-quality education and training programs in residency, fellowship and advanced nursing.
Learn more about our programs