Endocrinology
There are many types of endocrine disorders, including diabetes. Our expert physicians and nurses are just a phone call away. To schedule an appointment, call 216-778-2323. Referrals are not required.
Endocrinology
There are many types of endocrine disorders, including diabetes. Our expert physicians and nurses are just a phone call away. To schedule an appointment, call 216-778-2323. Referrals are not required.
Endocrinology
MetroHealth's doctors are board-certified in endocrinology, and serve as faculty at Case Western Reserve University, participating in ongoing research studies that help our patients—and patients around the world. Our nurses' specialized skills include diabetes education and endocrinology testing. Our network of care ensures that all your health needs are met with care and efficiency. Neurosurgery is our partner in the treatment of pituitary tumors. We work closely with the Maternal-Fetal Medicine team in the care for expectant mothers with diabetes or other endocrine disorders.
Treating Diabetes
Diabetes is a chronic disease that impacts a person's ability to produce or respond to the hormone insulin. This defect allows sugar to build up in the body.
There are three main types of diabetes:
Type 1 diabetes is usually diagnosed in kids, teens or young adults. People who have this form of diabetes make very little or no insulin.
Type 2 diabetes is much more common. People with this form of diabetes do not respond to insulin in an optimal way. Obesity is a major risk factor for type 2 diabetes, which can affect adults and children.
Gestational diabetes is a form of diabetes that develops during pregnancy in women who did not have diabetes prior to pregnancy. Gestational diabetes is a very high-risk factor for subsequent type 2 diabetes.
All forms of diabetes are serious, and some cause early symptoms. We often see people who are worried that they're living with prediabetes. Others may already have diabetes-related symptoms such as blurry vision or intense thirst and/or urination. Others feel fatigued, hungry or have unexplained weight loss. We provide the testing and care to reach a correct diagnosis and to begin proper treatment for any type of diabetes.
Our endocrinology team administers blood tests to help with diagnosis. We gauge fasting blood glucose levels and hemoglobin A1C. We also perform oral glucose tolerance tests. The results of these tests help us tailor the best treatment plan for the individual.
Should your diabetes respond to weight loss or diet changes, we can help you amend your lifestyle safely. We can connect you with nutritionists, physical therapists or bariatric surgeons, all of them available at MetroHealth. Should you need medications, we can help you understand how to use them properly. We are also well-versed in the administration of insulin, either with injections or pumps. We teach you how to monitor your blood sugar at home, so we can ensure your plan is working properly. We offer a diabetes education class, where you can learn more about how diabetes works and how to keep your symptoms under control.
Pediatric Endocrine Services
At MetroHealth, every child is treated with special one-on-one care. Our pediatric endocrinologists work closely with MetroHealth pediatricians, sharing test results, treatment plans and diagnostics. We're on call 24 hours a day for urgent diabetes problems and endocrine concerns, and three days per week the team holds a diabetes clinic.
When children are diagnosed with diabetes, they are paired with a team that offers education about diet changes and glucose monitoring. Children and their parents are taught how to administer insulin. We also offer training on continuous glucose monitors and insulin pumps. Our team manages medical complications associated with diabetes, including kidney disease and hyperlipidemia.
In addition to assisting with pediatric diabetes, our team helps with other endocrine disorders, including growth disorders, thyroid disease, disorders of pubertal development, adrenal insufficiency, abnormalities of calcium and bone metabolism, pituitary insufficiency and polycystic ovary syndrome.
Specialized Treatment for Endocrine Disorders
Our endocrinologists provide state-of-the-art care for people with a variety of hormonal and metabolic disorders, including:
Calcium metabolism disorders
Gender identity disorders
Hirsutism
Lipid disorders
Osteoporosis
Pituitary tumors
Thyroid and adrenal diseases
Thyroid cancers
To make an appointment, call 216-778-2323. Referral is not required.
Chat Online* with an appointment scheduler
*Chat is available from 8 am to 5 pm ET, Monday – Friday
Our Doctors/Medical Providers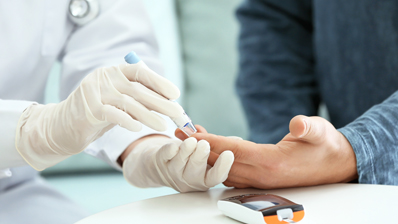 Graduate Medical Education
We are committed to a fellow-centered educational program with close relations between faculty and fellows, and an emphasis on clinical and didactic education.
Learn more about training with us.