Understanding the Impact of Concussions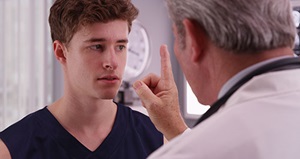 A hard hit on the football field. A sudden jerk from a car accident. A fall down the stairs.
Concussions can occur in almost any setting. And sometimes the signs and symptoms are mild, which is why knowing the different ways a concussion can present is so important, according to Heather Rainey, MD, a Physical Medicine and Rehabilitation/Sports Medicine specialist with The MetroHealth System.
The symptoms can be cognitive, physical, behavioral or emotional, and while some – such as forgetfulness or unsteadiness on the feet – are noticeable, others rely on the injured person's description of what he or she may be feeling. This can include issues such as a "foggy head", blurry vision, a sense of pressure in the head or something as vague as just not feeling right.
Athletes need to be honest in reporting their symptoms, Dr. Rainey says. Physicians and trainers on the sidelines watch carefully for possible concussions but need the athletes to tell them if they don't feel right.
"Light sensitivity can be a sign," she says, "as can balance issues like an unsteady gait."
A headache that gets worse over time and vomiting are very concerning signs, she adds.
Repeated concussions can present a different set of issues and concerns. A concussion is a traumatic brain injury (TBI), though it falls on the less-severe side of the spectrum.
"A one-time concussion usually doesn't have long-term implications," she says, "but if concussion occurs again and again, thinking issues, mood issues, chronic headaches and movement disorders may result."
When she sees a student athlete who's encountered repeated hits, "I'll often sit down with the family and counsel them," she notes, "and maybe suggest a different sport for the child if we are noticing long term issues, because you cannot be a student athlete if you aren't a student first."
Treatment and Recovery
"Unless the injured person is having 'scary' symptoms," says Dr. Rainey, "they don't typically need to go to the emergency room. It's better to start with a family doctor if that doctor can see the person quickly. If need be, the family doctor can refer the person to a specialist.
Many issues will resolve on their own. Typical treatment is physical and mental rest. Parents may take kids out of school for a couple of days to allow for rest. She also recommends limiting screen activity, because lights from screens can be irritating.
Dr. Rainey says people generally return to activity within a few weeks, after completing a standardized return to play protocol, gradually increasing activity level over 5 days.
Our Sports Medicine team is available in Broadview Heights, Cleveland Heights, Cleveland - Main Campus and Parma. To learn more, or to schedule an appointment, please call 216-95-SPORT (77678).