Orthopaedics
We specialize in the treatment of complex fractures and dislocations as well as minor injuries and degenerative conditions.
To schedule an appointment, call 216-778-4393.
Sprains, Strains, Breaks... Our Experts Can Help
MetroHealth's orthopaedics team includes Cleveland's best orthopaedic surgeons, physical medicine and rehabilitation physicians or physiatrists, plastic surgeons, occupational therapists or hand therapists and physical therapists. In addition, our board-certified physicians are on the faculty of Case Western Reserve University School of Medicine, continually learning the latest technologies and practices. Our patients benefit from the skills and knowledge our doctors gain through their academic research and work training medical students, residents and fellows.
We diagnose and treat injuries, both major and minor. Minor injuries include overuse or repetitive conditions like carpal tunnel syndrome and tennis elbow. They also include injuries sustained in falls or during physical activity, such as sprains, strains, and tears of the tendons and ligaments around the shoulder, elbow, hand, hip, knee or ankle and simple fractures.
Four Centers of Orthopaedic Excellence
During Your Visit
When you visit our orthopaedic service, your physician looks at your full medical history. We perform a physical exam and ask you to describe your symptoms. We may test your range of motion—how high you can raise your hand over your head, for example—your muscle strength and how well your nerves work.
Diagnostic Tests and Equipment
X-rays
Computed tomography (CT) scans
Magnetic resonance imaging (MRI)
Electromyography (EMG)
Nerve conduction studies
Ultrasound
Bone densitometry dual-energy x-ray absorption (DEXA) scanner
Nonsurgical Treatments
Many of the injuries or disorders we see can be treated without surgery. Our physical medicine and rehabilitation physicians are experts in the nonsurgical management of musculoskeletal conditions. For example, sometimes the first treatment for the pain and stiffness of an arthritic knee is weight loss and an exercise program.
Injection and bracing may reduce the pain. Physical therapy and muscle conditioning may be prescribed to improve mobility. If conservative treatment is not effective, you may be referred to one of our orthopaedic or plastic surgeons, depending on your specific condition, for possible surgical treatment.
Trauma, Surgery and Rehabilitation
We are a Level I Adult Trauma Center and a Level II Pediatric Trauma Center, and our orthopaedic surgeons, physical medicine and rehabilitation physicians, and plastic surgeons are adept at repairing damage from serious trauma, such as pelvic and acetabular (hip socket) fractures, open fractures, multiple fractures and articular (joint) fractures. We also provide rehabilitation services, so that your function and quality of life are restored.
Congenital and Degenerative Conditions
We offer comprehensive care for arthritis, osteopenia, osteoporosis and other degenerative conditions. Infants and children can get orthopaedic help at MetroHealth, too. Our team evaluates and treats congenital difficulties, including clubfeet and hip dysplasia.
To make an appointment, call 216-778-4393.
Our Doctors/Medical Providers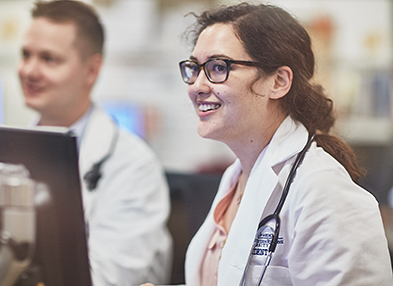 Graduate Medical Education
The MetroHealth System is committed to providing high-quality education and training programs in residency, fellowship and advanced nursing.
Learn more about our programs