Tailored approach to treat your back, neck, and spine disorders or injuries.
MetroHealth Spine Center's team of physicians, surgeons, and specialists are leaders in the treatment of back, neck and spine problems, disorders, and injuries, from simple injuries to the most complex cases.
Physical medicine and rehabilitation doctors (physiatrists)
Interventional pain management specialists
Spine surgeons
Nurses and therapists
Appointments
To schedule an appointment by phone, please call 216-778-3700. You can also request an appointment online.
Request Appointment
Experts in Medical and Surgical Management of the Spine
We are leading experts in handling acute spine trauma and provide exceptional care in the most difficult and time-sensitive cases. Our surgeons also are experts in minimally invasive techniques for correcting spine issues, even in the elderly.
Our physicians are faculty of Case Western Reserve University's School of Medicine, where they learn the newest techniques and conduct research while teaching the next generation of physicians.
One call to our Spine Center team can connect you to the right physician for your condition.
One Stop for the Right Care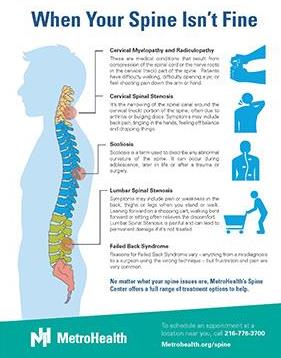 At MetroHealth's Spine Center, we tailor our care for each patient's needs. We work with you to find the best solution for your pain, your lifestyle and your needs.
At your first visit, you will be seen by a provider who will examine you and ensure you get to the right specialist to best meet your needs, so you quickly get on a path to recovery.
Our team provides a full range of care from surgery to non-surgical options and rehabilitation. Our goal is to get you feeling better through proven traditional and non-traditional treatment options, surgery, cutting-edge medical techniques, rehabilitation and customized approaches to pain management.
If needed, we will collaborate with other medical departments and specialty areas to provide comprehensive treatment for you.
Conditions We Treat
At MetroHealth's Spine Center, we treat a variety of complex, acute and chronic back, neck and spine conditions, including, but not limited to:
Cervical Spinal Stenosis. This condition involves narrowing of the spinal canal around the cervical (neck) portion of the spine, often due to arthritis or bulging discs.
Individuals with stenosis have symptoms like tingling in the hands, dropping things, back pain, and generally feeling off balance and can be difficult to pinpoint and diagnose. Our doctors have decades of experience in recognizing and treating this painful, movement-limiting condition.
Disc Herniation. MetroHealth physicians use a range of surgical and non-surgical treatments to treat herniated discs. Treatment options can include injections, muscle relaxers, anti-inflammatory medication, physical strength building, exercise, or surgery for more serious injuries.
Failed Back Syndrome. Our physicians will help patients achieve relief from pain by using a customized approach based on each patient's history and ongoing symptoms.
Lumbar Spinal Stenosis. We offer non-surgical treatment options, such as periodic cortisone injections combined with core strengthening. Surgery may be a consideration for those patients who have not found relief from other treatments.
Myelopathy (Cervical, Lumbar and Thoracic). This condition results from an injury to the spinal cord due to severe compression.
Radiculopathy ("Pinched Nerve" or Bulging Disc). We have considerable experience in determining where the pain originates and in providing pain relief.

Scoliosis – Pediatric and Adult. We are experts in spinal deformities in adults and children, including scoliosis. We offer surgical and non-surgical treatment options.
Treatments can include injections, core strengthening, acupuncture and/or massage or surgery. Our spine tumor orthopedists work to help patients be as comfortable as possible and to protect the body while working in conjunction with oncologists treating any cancer that may be present.
Surgical Treatment Options
If surgery is necessary to treat your condition, you will be in excellent hands at MetroHealth. Our surgeons are world class and use the latest techniques in the industry to get you feeling well again. We offer the following surgical techniques:
Spine surgery, such as fusion, discectomy or laminectomy
Minimally invasive surgery, the least invasive approaches with small incisions and shorter hospital stays
Non-Surgical Treatment Options
Any pain that comes from the spine can affect quality of life. Fortunately, many patients with moderate to severe back pain can benefit from non-surgical treatment options, such as therapy, lifestyle changes and non-invasive procedures. MetroHealth Spine Center physicians help to identify the underlying cause and prescribe traditional and non-traditional treatment options for you that will offer improvement. We specialize in pain relief approaches without the use of opioids.
Pain relief treatments at MetroHealth Spine Center for adolescents and adults include:
Physical therapy and exercise at home
Help with lifestyle changes, such as tobacco cessation, diet modification, yoga or joining a fitness center
Osteopathic Manipulation Treatments, a variation of chiropractic care that helps get your body back into its natural balance
Injections to muscles, joints, nerves, or discs
Neuromodulation, such as spinal cord stimulators or peripheral nerve stimulators to deliver electricity or medication to targeted areas of body
Nerve ablation to destroy nerve fibers that carry pain signals to the brain
Non-opioid medication for acute pain and chronic conditions
Locations
MetroHealth Spine Center physicians can you see close to home, at the Main Campus Medical Center and at our community health center locations across Cuyahoga County. Call 216-778-3700 for more information.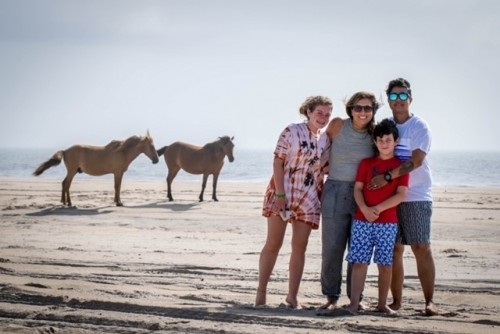 'I Will Fix You': Spine Center Provides Hope and Healing
As a mom and an accomplished cancer surgeon who spends hours a day on her feet, Kimberly Resnick, MD, admits she was no stranger to back pain.
Learn more
Our Doctors/Medical Providers