Sports Medicine
Whether you're a sidelined athlete focused on getting back in the game, or a weekend warrior whose goal is participating more fully in the game of life, the MetroHealth Sports Medicine team can help make it happen.
Call 216-957-7678 (SPORT) to make an appointment.
Sports Medicine
We provide immediate access to medical, surgical and rehabilitation providers trained in the evaluation and treatment of sports-related injuries. MetroHealth providers have trained at top sports programs and have experience working with pro athletes and professional teams, as well as area high schools.
MetroHealth Sports Medicine locations are in Broadview Heights, Cleveland Heights, Cleveland – Main Campus and Parma. To schedule an appointment, call 216-957-7678.
Conditions We Treat
Orthopaedic injuries (adults and children 8 and older):
Bone and joint conditions
Back and neck pain
Industrial injuries
Sports-related conditions (age 7 and older):
Ankle, knee and hip injuries
Shoulder, elbow and hand injuries
Sports-related spine injuries and concussions
Sports-related knee injuries
Sports-related shoulder injuries
Running injuries
Tennis injuries
Innovative Treatments
Concussion Clinic: Traumatic brain injury is a serious concern for athletes. Our specially trained physical medicine and rehabilitation physicians, also known as physiatrists, work closely with neuropsychologists and speech, physical and occupational therapists. For more than 20 years, we have been providing individualized treatment to promote healing and avoid further injury.
Injection Therapy: Both traditional and regenerative procedures are revolutionizing the treatment of muscle, ligament and joint injuries. For certain injuries, the use of prolotherapy, platelet rich plasma (PRP) injections, viscosupplements (i.e., cartilage injections), dry needling and Botox™ injections can speed up healing.
Physical Therapy: MetroHealth offers a variety of physical and occupational therapy services that can help any athlete feel better and stronger. Our highly skilled therapists develop personalized treatment plans to best meet each person's needs.
Spine Injections: These procedures can diagnose or treat pain. And they can help your doctor determine exactly what's causing your discomfort and open the door for therapies to provide relief.
Surgical Treatment: When injuries require surgical care, our highly trained orthopedic surgeons use the latest techniques to speed your recovery and return you to your activities. These include minimally invasive techniques, such as arthroscopic surgery, fracture repair and ligament reconstruction. These techniques are paired with a personalized rehabilitation program.
Need Sports League Coverage?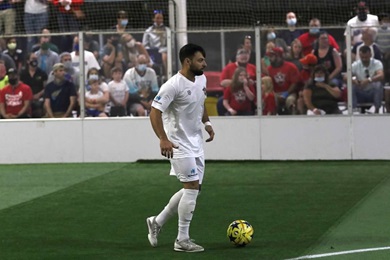 We serve as sports physicians at events throughout Greater Cleveland. If you're involved in a sports league and need coverage from a sports medicine specialist, call 216-95-SPORT (77678). We're out in the field, providing care to athletes where they play, including the following sports teams:
John Marshall High School
Lincoln West High School
Lutheran East High School
To schedule an appointment, call 216-957-7678 (SPORT).
For same-day needs, stop by one of our walk-in MetroExpressCare locations.
Ready, Stretch, Go!
Good news for weekend warriors: A recent study found that fitting in the recommended 150 minutes of moderate-intensity exercise on Saturday and Sunday can help you live longer.
"The problem is," says Heather Rainey, MD, a MetroHealth sports medicine specialist, "working out only on the weekend raises your risk of getting hurt." Tendonitis, sprains and strains are common problems.
Learn more