Getting Started on a Fitness Routine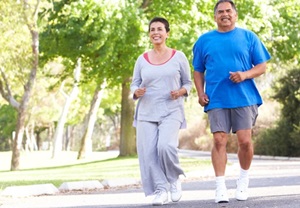 It's not easy starting a fitness routine, but don't let that stop you. A well-rounded fitness program can have excellent payoff for your physical, mental and emotional health.
For example, medical conditions such as diabetes, high blood pressure and more can be improved through exercise. In some cases, medications can even be reduced or eliminated as your overall health improves.
Here are some tips on getting started from Theresa Poyma, a physical therapist at MetroHealth Sports Medicine and Physical Therapy.
First Things First
Before you jump into a new routine, it's wise to get the green light from your doctor. An annual physical can identify underlying conditions that may need to be considered when you're starting a fitness program.
Picking a Routine
With so many exercise options available – from yoga to weight training to walking – how do you determine which is best for you?
"Pick something that you feel passionate about. Do you like being outdoors? If so, walking, running or biking might be options. Do you enjoy group settings? Yoga or cycling classes may suit you best," Poyma says.
Your personal goals are also a factor, whether you're trying to lose weight, gain muscle, boost your cardiovascular endurance – or all three. Many class-type settings allow a trial period where you can "try on" the fitness routine to see if it's a good fit for your personality and needs.
You can also ask your health care provider for input. While 30 minutes of exercise per day is the general goal, how much time you spend on a fitness program depends on your individual situation.
Resources to Consider
Though trackers and smartphone apps aren't necessary, they can help you monitor activity and understand your progress.
"Trackers or apps let you see actual data," Poyma says. "Some can even track your heart rate. And if friends or family members are tracking their routines, too, you can make it a game by challenging one another."
In lieu of trackers and apps, you can keep a simple journal of your daily exercise, jotting down what you did and how much time you spent doing it. Keeping tabs can make you more aware of your activity, which can be motivating.
Ouch, That Hurts
You've started routine with such enthusiasm that you've overdone it and are hurting. Now what?
"Starting a routine too intensely can lead to injuries," Poyma says. "Common injuries like tendonitis or bursitis are caused by inflammation that occurs when you push your body too hard, too soon."
There's a difference between muscle soreness and muscle/joint pain. Soreness lasts 24-72 hours and primarily centers on the muscle group exercised. It usually gets better as time passes. Poyma says the RICE method (Rest, Ice, Compression, Elevation) can help. But if pain lasts longer than seven days, it's time to consult a medical professional.
Remember, the first day of an exercise program can be the hardest – but keep going. Consider trying other options if one exercise routine doesn't seem right.
Our Sports Medicine team is available in Broadview Heights, Cleveland Heights, Cleveland - Main Campus and Parma. To learn more, or to schedule an appointment, please call 216-95-SPORT (77678).
We also offer physical therapy throughout the community.