Endoscopy Services
GI conditions can cause symptoms deep inside your body that are felt but not seen. An endoscopic procedure allows us to look inside your GI tract and, if needed, take tissue samples for closer examination.
We offer five different types of endoscopy at MetroHealth:
Capsule endoscopy, used to view images of the small bowel
Colonoscopy, used to view the lower bowel
Endoscopic retrograde cholangiopancreatography (ERCP), used to view the bile ducts and pancreatic duct
Endoscopic ultrasound (EUS), used to view images of organs in the chest and abdomen
Upper endoscopy, used to examine the upper portion of your GI tract
We also offer a variety of other tests that can help provide you with a proper GI diagnosis, including:
Esophageal pH monitoring, to measure stomach acid
Fibroscan, used to stage liver disease
Motility testing, made to assess the ability of your gut to function normally
In addition to diagnosing a medical illness, we work with you to keep an existing illness under control. We offer fecal transplants, infusions and endoscopic therapies to help with your medical conditions.
Scheduling Services
We provide you with personalized care at MetroHealth, explaining each test or procedure in detail before getting started. You will have ample opportunity to prepare for any test we recommend. Should you want to prepare for your test in advance, see our pre-test recommendations for review. Contact us with any questions.
To make an appointment, call 216-778-5736
Our Doctors/Medical Providers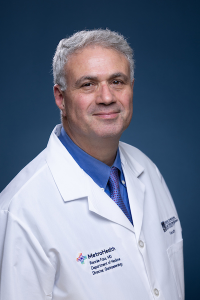 Division Director of Gastroenterology & Hepatology; Medical Director of Digestive Health Center
Gastroenterology