Colon Cancer Screenings
Let's be honest. Nobody wants to talk about – or think about – their colon. That's a problem, because more than 50,000 Americans die of colon cancer each year. The main role of screening is to identify pre-cancerous lesions of colorectal cancer, i.e. polyps. In other words, regular screenings can save your life.
To schedule a colonoscopy, call 216-778-5381.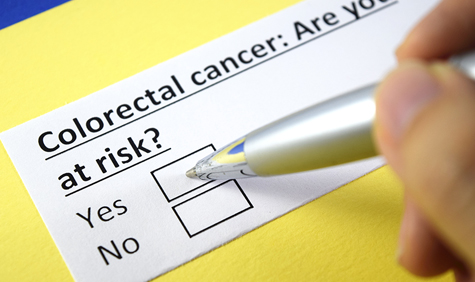 Colonoscopies and FIT Tests
Who's at risk?
People aged 50-75 should be screened regularly for colon cancer.
You might be at greater risk for colon cancer if you have a family history of colon cancer or a personal history of colon cancer, colorectal polyps or inflammatory bowel disease (ulcerative colitis or Crohn's disease). If you are at greater risk, you may need to be screened earlier or more often.
You might have different options for how you are screened depending on your age, family history and risk factors. This is a discussion you will have with your primary care doctor. Need a primary care doctor?
Types of screening tests
Two common screening methods for detecting early colon cancer, include:
| | | |
| --- | --- | --- |
| 1. | Colonoscopy – In this exam, a doctor will examine your colon and rectum with a flexible scope. You will be sedated during the procedure, so you will be comfortable. Your colon and rectum must be empty and clean for the screening, so you will be instructed to prepare for the exam by taking a laxative. You will be given instructions. You will need a referral from your primary care doctor to undergo a colonoscopy. MetroHealth offers colonoscopies at our Cleveland Heights, Main Campus and Parma Medical Center locations. To schedule a colonoscopy, call 216-778-5381. | |
| 2. | FIT Test – For patients who have an average to low risk, a FIT test (fecal immunochemical test) is another option. It's important to note that high risk patients should always undergo colonoscopy screenings. The FIT test is easy and can be performed in the privacy of your own bathroom at home. It requires no preparation or change to your diet. You will mail in your sample. Your primary care physician can order a FIT test for you and you can pick up the test during a previously scheduled appointment or by scheduling a nurse visit. To schedule a nurse visit to pick up your test, call 216-957-2550. | |
See your primary care doctor
The first step toward the peace of mind that comes with a colon screening is to make an appointment with your primary care doctor to see which test is best for you. Make an appointment now by calling 216-957-2550 or schedule an appoint through your MyChart account.
Important Resources