Professional Development
The Career Advancement for RN Excellence (CARE)
This program at MetroHealth gives staff nurses the opportunity to develop new skills in education, management, research or quality and grow professionally as a registered nurse. This program allows us to expand our nurses' skill set, attract and retain outstanding nurses, and provide high quality nursing care. As a Magnet facility, we are recognized among the elite institutions and the CARE program has been instrumental in obtaining and maintaining this elite status. In fact, the MetroHealth CARE Program was recognized as an Exemplar for Mentoring & Succession Planning during our 3rd Magnet Designation Review.
There are three different track options: Education, Management, & Champion.
The Education Track is dedicated to developing nurses as Preceptors or Educators in their clinical practice area.
The Management Track is designed to enhance the leadership skills of the nurse through the Patient Care Coordinator role, managing schedules, patient assignments and other nurse management tasks. The Management track also offers the role of Quality Improvement Facilitator which allows staff nurses to become actively engaged in quality initiatives through data analysis of nursing quality indicators and development of effective performance improvement projects.
The Champion Track allows staff nurses to become educated on and develop projects surrounding various clinical indicators such as Falls Prevention, Infection Prevention, Skin Care, Restraint Usage, Research, and Patient Experience.
CSU/MetroHealth Blended MSN Program
Are you interested in returning to school for your MSN, but unsure about the online learning environment? This program uses a blended delivery approach (face-to-face and online delivery of course work). Click for highlights of the CSU School of Nursing MSN Degree program.
Nurse Residency Transition to Practice Program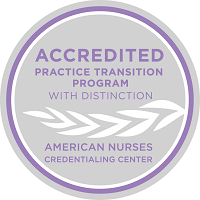 This is a formal structured program to give you an opportunity as a recent nurse graduate to move confidently into your chosen career path.
The opportunities and the unique programs in nursing make MetroHealth a great place to start your career. MetroHealth believes in empowering clinical nurses to make decisions about how nursing care is delivered. MetroHealth promotes interprofessional collaboration and as a MetroHealth Nurse, you would be working with a team whose professional talents, contributions and dedication are unsurpassed.
The Nurse Residency Program is designed to assist in your transition from new graduate registered nurses to successful, competent staff nurses. There are planned opportunities for you to develop your clinical skills and professional career in the simulation lab and on your clinical unit or clinic. You will work with nurses who know and apply best practices to patient care. The Professional Development Specialists will support your success by guiding your professional growth and development.
Our program is the cornerstone for developing confident professional nurses who demonstrate values intrinsic to MetroHealth. With this background, you will have tools to generate outstanding practice modalities for years to come!
MetroHealth System Nurse Residency Transition to Practice is accredited with distinction as a Practice Transition Program by the American Nurses Credentialing Center's Commission on Accreditation.
Competencies based on QSEN
Simulation laboratory experience used for skills acquisition and scenario-based multidisciplinary sessions to address specific patient populations.
Experiences on the graduate nurse's clinical unit with the guidance of dedicated trained preceptors.
Preceptors selected and educated in staff development, goal planning and professionalism
Specialty core educational courses designed to develop competence in clinical nursing as you transition from novice to competent practitioner.
Professional Development classes designed to promote additional opportunity for networking and meeting the unique needs of new graduates.
Topics Include
Critical Thinking and Reasoning
Professional Development
Nursing Research
Tracks Towards Leadership
Evidence Based Practice
Research in Direct Care Activities
Cultural Integration
Nurse Intern Program
MetroHealth is dedicated to developing future nurses through the Nurse Intern position. Nurse Interns are required to be enrolled in an accredited baccalaureate nursing program with current participation in clinical rotations. These unlicensed assistive personnel (UAP) are responsible for providing infant through adult patient care under the direction of a professional registered nurse. They provide general patient care by distributing nourishment, obtaining vital signs, collecting specimen, and assisting with activities of daily living.
In hopes of enhancing the Nurse Intern experience for future nurses and as a means of succession planning for MetroHealth, one hour Professional Development sessions to educate and prepare these students for their future career are hosted. Some examples of Nurse Intern Professional Development Session topics that have been held are:
"Meet the Nurse Residents," hosting a panel of new Clinical Nurses at MetroHealth sharing their experiences with graduation, the NCLEX, finding the right job, and starting in their first nursing position.
"Professionalism & Magnet," discussing the impact the American Nurses Credentialing Center's Magnet® Recognition Program has had on the nursing profession.
"Resume Writing & Interviewing," helping Nurse Interns develop strategies for a stand out resume and successful interview.
Attendance at these sessions is not mandatory, but is highly encouraged. In addition to the Professional Development Sessions, nurse interns receive a quarterly publication, "Nurse Intern Newsletter" which includes tips from new Clinical Nurses, a question & answer column, and a compliment corner, recognizing Nurse Interns for a job well done. The Nurse Intern Program has been very beneficial to MetroHealth and the Department of Nursing in succession planning for clinical nurses.