Community Service
Nurses throughout The MetroHealth System live the mission and vision of our department through their unsurpassed outreach and dedication to the community we serve. During the past few years, nurses participated in 62 community health fairs, for which over 5,000 people attended and where more than 16,100 screenings were performed.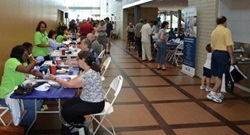 The following are just a few of the many examples that have been created and/or contributed to by MetroHealth nurses that show how compassionate, respectful and giving our nurses are towards individuals within our community.
Many nurses have requested and received grants as seed money for holiday service projects for patients and others in the community.
The BREAST/Amigas Unidas program provides community outreach and education on breast cancer. The Amigas Unidas program is a bilingual peer-to-peer grassroots volunteer program where Latina women are trained to educate other women in their communities about breast cancer.
Senior Health Fairs
National Night Out Against Crime
Coordination of Daddy Boot Camp initiatives
Winter and Summer Pediatric Burn Survivors Camp
Participation in fundraising efforts for numerous organizations including:

American Lung Association Asthma Walk
NAMI Walks for the Mind of America
American Heart Association
Harvest for Hunger Campaign
American Cancer Society Relay for Life
Susan B. Komen Race for the Cure
Diversity Walk
FoxTrot
March of Dimes Walk

Safety on the Go for Cleveland Public Schools
Coordination of several Patient Support Groups (burn, diabetes, trauma, spinal cord injury, cancer)
Participation in community health and wellness education activities such as MetroHealth & You Radio Talk Show Appearances, Every Woman Health Events, Ladies Night Out Events and PepTalks
Annual Employee Service Day
From planting green spaces to giving trash cans a sparkling makeover, employees and family members volunteer annually for various improvement projects along West 25th Street. Our team helps patients make recoveries and promotes health and wellness every day, in addition to investing time and energy into revitalizing our community.