A Family Transformed through Bariatric Surgery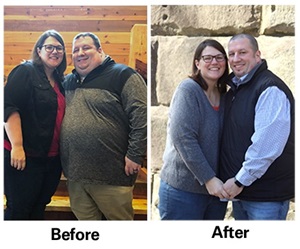 At the age of 35, Patrick Spooner feared for his life. Not because of some external source. But because he was eating himself to death.
"I was the guy who would eat five large meals a day, mostly fast-food and stuff like Twinkies and Ho Hos. Absolute junk," he says.
Patrick confesses to washing those meals down with 10 – 15 cans of pop per day.
"At the rate I was going, I realized I wasn't going to see my kids grow up."
At 5'10" and nearing 460 pounds, his doctors agreed.
Like many people who struggle with weight, Patrick, an accounts payable disbursement specialist for MetroHealth, had tried dieting. But the days he "cheated" were becoming more common than the days he could keep to his weight loss program. He admits to falling off the wagon more than a few times, until he finally hit rock bottom.
His tipping point came in December of 2018 – a month he refers to as life-changing. That was after he attended a seminar about bariatric surgery, where he met Sergio Bardaro, MD, Director of Bariatric and Metabolic Surgery. "Everything he said resonated with me," says Patrick. "He told us what we needed to do. And everything he said would happen, did happen."
The first thing Patrick needed to do was drop 35 pounds. That was a prerequisite for surgery. According to Patrick, Dr. Bardaro was adamant about this requirement. He's not a man who minces words. He doesn't sugarcoat them either. "He wants his patients to understand surgery is not a quick fix. And that he's not a doctor that just says what you want to hear," says Patrick.
Patrick followed the doctor's orders and lost 35 pounds, plus another 15. He did it the old-fashioned way, through diet and exercise. Patrick proved to himself and Dr. Bardaro that he was committed and ready for the next step – bariatric surgery.
He credits Dr. Bardaro for giving him the support and guidance to stay the course.
"Dr. Bardaro's bedside manner, the way he interacted with my family, my wife and my parents and the professionalism that man exudes is off the charts," he says. "He treats you like family. All he wants is the best results for you."
For Patrick, it helped that Dr. Bardaro also battled his own weight issues and turned to bariatric surgery for help. "When you can speak from experience, it carries more weight for me," says Patrick.
Patrick is "over the moon ecstatic" about the results from his surgery and renewed way of living through healthy eating and exercise. He will soon be celebrating his one-year anniversary from the day he had surgery – June 24, 2019. He has surpassed his goal weight of 270 pounds and is holding steady at a healthy 240 pounds.
Patrick's wife, Abbey, will be celebrating too. Not only for her husband's success, but for her own. She received bariatric surgery last November and has lost 100 pounds. "We wanted to do this as a couple," she says. "It helps to have a supportive partner, and we keep each other honest," adds Patrick.
Abbey's weight loss journey was slightly different from Patrick's. "I wasn't to the point where I couldn't do things," she says. But her excess weight was causing constant joint pain. Abbey had struggled with weight issues since her teens. She looked to surgery as more of a preventive measure for preserving her health and improving her mobility. "I wanted to be able to run around with the kids to keep up with them," she says.
Her experience with MetroHealth's weight loss team helped her prepare for a new, healthier life. "I had a wonderful experience," she says. "Everyone was great. They make you feel like you are part of the family." Following surgery, Abbey was impressed that Dr. Bardaro took the time to meet her whole family in the waiting room and ask if anyone had any questions. "He's very honest and will tell you surgery is a tool and not the be-all and end all. You still need to work at it – watch what you eat, take your vitamins, and exercise."
The tools the Spooners have learned from MetroHealth's Weight Loss Surgery and Weight Management Center are affecting their two young boys. More fruits and vegetables are now part of the family meal plan, along with smaller plates. "We use salad plates now," explains Patrick. Half of the plate is protein; a quarter is for fruits and vegetables and the remaining quarter is for carbs. "But I try to stay away from the carbs," he says.
Patrick pauses in mid-sentence overcome with emotion about his transformation. "Dr. Bardaro has given me a life I never thought I would get back to," he says. "I'm able to do stuff with my kids and wife that I couldn't do a year ago. I play with my kids and get on the ground and wrestle with them. Prior to surgery, I would have been winded. It's been life-altering surgery."
Bariatric surgery and the hard work of changing habits contributed to the success both Patrick and Abbey are experiencing. Patrick says he's gone from being a couch potato, unable to tie his own shoes and suffering from sleep apnea, to being an active involved parent and partner. But he knows surgery is only part of the solution.
He knows to maintain a healthy weight takes more than surgery. It takes forming healthy eating and exercising habits. Having a team of professionals behind you and supporting you beyond surgery has been a motivating force for Patrick and Abbey.
"Dr. Bardaro has kept in touch with us," says Patrick. "We get emails and calls."
"You don't find that level of care and follow-up very often. MetroHealth is lucky to have that level of leadership, and it trickles down to his whole staff."
So, when should someone consider bariatric surgery as a next step to a healthier life?
MetroHealth's Weight Loss Surgery & Weight Management Center can help determine what's best. There are a few factors to consider.
Patients qualifying for surgery have:
A BMI of > 40
A BMI of ≥ 35 with associated comorbidities
A BMI ≥ 30 with uncontrolled diabetes
Bariatric surgery is the most effective treatment for severe obesity or moderate obesity with medical problems. Surgical treatment of severe obesity increases lifespan and improves many medical conditions, including a cure for Type II Diabetes.
MetroHealth offers two types of surgeries:
Taking two steps to a heathier you:
Bariatric surgery is a personal decision. MetroHealth recommends taking these two steps to help determine if it's the next step for you.
Learn more about bariatric surgery by watching this online seminar available in English and Spanish.
Set up an appointment with a MetroHealth Weight Management Coordinator for a confidential consultation to discuss your options at 216-778-7433..
In addition to surgery, MetroHealth's Weight Loss Clinic offers:
Individualized lifestyle plans including nutrition counseling, activity goals and behavioral change recommendations
Medication to support success, when needed
Medical preparation for bariatric surgery
Long-term medical care to optimize and keep off weight
STRIDES (Steps to Reach Individual Diet and Exercise Solutions), our proven and unique weekly individualized weight loss program and an official translation of the Diabetes Prevention Program
As for Patrick, now that he has achieved his goal of a healthier more active life, he is setting new goals.
"My neighbor is an avid runner. I told him I have every intention to run a 5K and then bump it up to a 10K," he says. "The sky's the limit anymore. The handcuffs are off."
Learn more about the MetroHealth Weight Loss Surgery and Weight Management Center, or call 216-778-7433.