Hand, Arm and Shoulder Repair
Do you suffer with hand, arm or shoulder pain due to injury, carpal tunnel syndrome or rotator cuff issues? Our team of experts includes specialists in orthopaedics, plastic surgery and occupational therapy who are trained to treat complex shoulder, wrist and hand problems in adults and children.
To make an appointment, call 216-778-HAND (4263).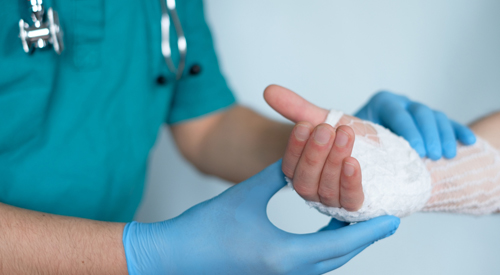 Hand and Upper Extremity Center
MetroHealth's specialists have the expertise to diagnose, treat and repair any problem in the upper limb—from the fingers up to the collarbone. We also perform cutting-edge research. We work with scientists and engineers at MetroHealth and Case Western Reserve University to develop new techniques for treating injuries.
Conditions We Treat
These include, but are not limited to:
Amputations
Arthritis
Broken bones
Carpal tunnel syndrome
Congenital deformities
Cubital tunnel syndrome
Dislocations
Frozen shoulder
Lacerations
Nerve compression syndrome
Torn tendons
Trigger finger
Testing and Treatment
When you come to our center, you'll be examined by one of our upper extremity specialists. Diagnostic tests—such as X-rays, ultrasound, CT scans, MRIs or nerve testing—are performed and evaluated by technicians and radiologists who are experts in upper limb disorders. With a diagnosis, your orthopedic team can craft a plan to ease your pain and get you moving.
Nonsurgical Treatment Options
Nonsurgical treatment options include medications, physical or occupational therapy and injections for relief of pain and inflammation.
Surgical Treatment Options
Digital reimplantation with microvascular nerve repair
Elbow surgery for fractures, dislocation and recurrent instability
Finger surgery for amputation or complex fractures
Repair of displaced collarbone fractures
Rotator cuff repair
Shoulder arthroscopy
Shoulder surgery for instability, separation and joint tears
Our specialized orthopedic surgeons also offer all forms of upper extremity joint replacement, including:
Elbow replacement
Finger replacement
Shoulder replacement
Wrist replacement
After surgery, we connect you with in-house resources that can help you to heal and regain mobility, such as physical and occupational therapy.
To make an appointment, call 216-778-HAND (4263).