PrEP
Worried that you might be at risk for HIV?
Call our (Pre-Exposure Prophylaxis) Navigator, AKeem, today! 216-957-PreP (7737). Or text
216-714-2223.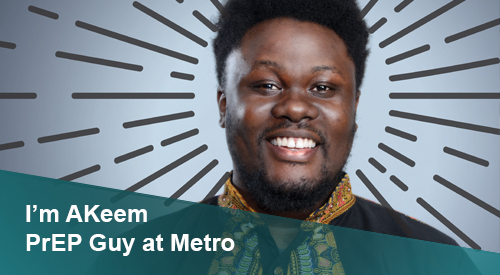 What is Pre-Exposure Prophylaxis (PrEP)?
PrEP is the once-daily pill used to protect someone from becoming infected with HIV. The medicine used is called Truvada, and it was approved for HIV prevention by the FDA in 2012. Taking Truvada once a day reduces a person's chance on becoming infected with HIV by 92 - 99 percent! PrEP does not protect against other sexually transmitted infections (STI) or pregnancy. It is not a replacement for condoms. It is not a cure for HIV.
How does PrEP work?
Taking Truvada once a day will help prevent HIV. Only a doctor can prescribe PrEP. Your blood also has to be tested periodically while on Truvada to make sure that your kidneys and liver are functioning normally. Continued condom use when appropriate is strongly recommended, as PrEP does not offer protection against other sexually transmitted infections, like syphilis or chlamydia.
Is PrEP right for me?
Truvada reduces the risk of HIV infection from unprotected sex. PrEP works in men, women, and Trans individuals. It can also help relieve the anxiety from sexual relationships between someone who is HIV positive and someone who is HIV negative. Ask our PrEP Navigator or your health care provider if you have additional questions on how PrEP will work for you.
How long do I have to be on PrEP for it to be effective?
PrEP can take between 7 to 21 days of daily use to be fully effective depending on the type of sex or other risk behaviors a person engages in. PrEP must be taken every day to be fully effective.
Potential Side Effects
PrEP is generally very safe and well-tolerated. Most people on PrEP report experiencing no side effects. Some, however, have reported side effects. Those side effects are listed below and ordered from most to least common:
Nausea
Headaches
Weight loss
Slight decrease in bone mineral density (no risk of fracture or damage. Returns to normal after PrEP is discontinued)
Slight decrease in kidney function (returns to normal after the discontinuation of PrEP)
For those who experience symptoms, these side effects went away on their own after the first couple weeks of taking PrEP.
Can I get PrEP at MetroHealth?
Yes. There are many physicians across the MetroHealth System that are qualified and familiar with administering PrEP. In fact, we offer two PrEP-specific clinics:
Call our PrEP navigator to make an appointment today: 216-957-PrEP (7737)
PrEP can also be obtained through providers with MetroHealth's Pride Network. Call 216-957-4905 for a Pride appointment.
Can I Afford It?
Absolutely. Medicaid and most private health insurance plans cover the cost of PrEP, including the medication, medical appointments, and lab tests associated with PrEP care.
In Ohio, Medicaid completely covers PrEP with little to no out of pocket expense. If you have private health insurance, check with your plan to get more details about how PrEP is covered and ask about the amount of any medication co-pay.
If you have health coverage, but the amount of medication co-pay or deductible would present a financial challenge, you may be eligible for a co-pay card from the drug manufacturer. Visit their website or call 1-877-505-6986 for more information.
For people without access to health coverage, a medication assistance program is available from the drug manufacturer. To find out if you are eligible for the Gilead medication assistance program, visit Truvada or call 1-855-330-5479.
Our PrEP Navigator is trained and happy to help you access financial assistance to make your PrEP care affordable, just call them at 216-957-PrEP (7737).
For additional information or assistance, Project Inform provides this reference chart.
Have a question about PrEP?
Contact Akeem Rollins at [email protected] or call 216-957-PrEP (7737).
Local PrEP Resources
Visit The Cleveland AIDS Clinical Trials Unit for more information, a local directory of PrEP providers, and additional resources.
Outside of Cuyahoga County?
Visit Ohio PrEP for a statewide directory of PrEP providers, more information, and other resources.