Infectious Disease
Our highly trained infectious disease specialists prevent, diagnose and treat a range of infectious diseases—from tuberculosis to hepatitis C.
For more information or to schedule an appointment, call 216-778-8305.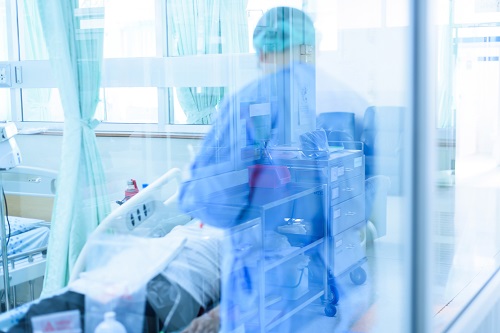 Infectious Disease
What's an Infectious Disease?
Infectious diseases are also known as communicable diseases. They're caused by germs, such as bacteria, viruses or other organisms.

Some infections spread from person to person, such as through sexual contact or through the air. Others—such as Zika or rabies—spread through the bite of infected insects or animals.

Other infections can be related to chronic wounds, and they may cause serious and sometimes life-threatening complications, including gangrene. All of these diseases require different types of treatment. But one thing remains the same: Serious infections often require enhanced expertise. That's what MetroHealth's comprehensive services can offer you.
Our Role as Researchers and Leaders

MetroHealth participates in the nationwide Center for AIDS Research at Case Western Reserve University, providing opportunities for people living with HIV to participate in studies of new treatments.

MetroHealth also operates the Cuyahoga County Tuberculosis Program that is responsible for screening, preventing and treating tuberculosis in our county.
In addition, MetroHealth has an emerging infectious disease unit supported by the Centers for Disease Control and Prevention. In fact, it's the only program in Ohio equipped to handle patients with highly contagious and rare pathogens, like the Ebola virus and Middle East respiratory syndrome coronavirus.
Conditions We Treat
At MetroHealth, we treat the full spectrum of infectious diseases, including:
Bone and joint infections, such as osteomyelitis
Recurrent skin and soft tissue infections, like those caused by staph bacteria
HIV (human immunodeficiency virus) treatment and prevention (pre-exposure prophylaxis, or PrEP)
Sexually transmitted infections (STIs), formerly known as STDs
Hepatitis C, one of several viral diseases that attack the liver
Endocarditis (an infection inside the heart)
Clostridium difficile (C. difficile) infection
Abdominal infections
Central nervous system infections
Common, but complex or severe, infections, such as pneumonia or UTIs
Tuberculosis
Infection Protection: Our Prevention Services
In addition to treatment, MetroHealth's infectious disease experts help prevent the spread of infections to individuals and the community. This includes:
Vaccines and advice for people traveling to countries where infectious diseases are common. Should you come home with an illness, we can help you too. Our Travel Medicine Clinic offers these services.
Screening and treatment of latent tuberculosis infections, which helps prevent tuberculosis disease. These services are offered in our Tuberculosis Clinic.
Medication (PrEP) to help prevent HIV in people who are HIV-negative but at high risk for infection. The medicine is administered through our HIV/AIDS Clinic.
Pediatric Infectious Disease Expertise
Children can experience infectious diseases too. Our pediatric infectious disease providers see kids with a variety of infectious illnesses, including:
Bone and joint infections
Enlarged lymph nodes
Lyme disease
MSRA infection
Pneumonia
Recurrent sinus and ear infections
Skin abscesses
Tuberculosis
Our Doctors/Medical Providers