Helping Treat and Prevent Infectious Diseases
Our highly trained infectious disease specialists prevent, diagnose and treat a range of infectious diseases—from tuberculosis to hepatitis C.
For more information or to schedule an appointment, call 216-778-8305.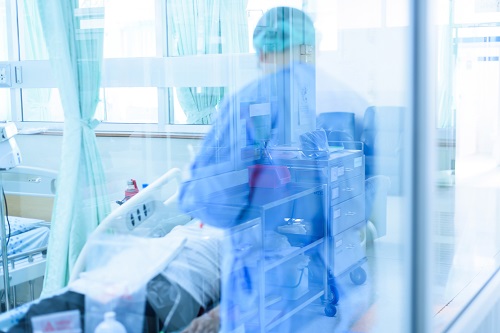 Infectious Disease
Infections can catch you off guard—and some can pose a serious risk to your health. Should you ever need care for an infectious illness, MetroHealth's experts are among the very best in Greater Cleveland, and they are here to help.
What's an Infectious Disease?
Infectious diseases are also known as communicable diseases. They're caused by germs, such as bacteria, viruses or other organisms. At one time or another, we've all had one, whether a common cold or something more serious.
Some infections spread from person to person, such as through sexual contact or through the air. Others—such as Zika or rabies—spread through the bite of infected insects or animals.
Other infections can be related to chronic wounds, and they may cause serious and sometimes life-threatening complications, including gangrene. All of these diseases require different types of treatment. But one thing remains the same: Serious infections often require enhanced expertise. That's what MetroHealth's comprehensive services can offer you.
Infectious Disease Expertise in Greater Cleveland
Our infectious disease doctors have the skills and experience to treat even the most complex illnesses. They are board-certified with additional years of experience and training in their specialty. And they're supported by an outstanding team of registered nurses, social workers, pharmacists and other health professionals.
With their comprehensive approach, they focus on your wellness at many levels, including your need for social care. They want to help you get better, even if that means calling upon a variety of services to do so.
Our Role as Researchers and Leaders
Many of our specialists are actively involved in clinical research. They publish studies that expand our knowledge of infectious diseases and how to help those who have them.
And because we're part of the nationwide Center for AIDS Research at Case Western Reserve University, we provide opportunities for people living with HIV to participate in studies of new treatments.
MetroHealth operates the
Cuyahoga County Tuberculosis Program
that is responsible for screening, preventing and treating tuberculosis in our county. In addition, MetroHealth has an emerging infectious disease unit supported by the Centers for Disease Control and Prevention. In fact, it's the only program in Ohio equipped to handle patients with highly contagious and rare pathogens, like the
Ebola virus
and Middle East respiratory syndrome coronavirus.
When You Might Need an Infectious Disease Expert
In general, your primary care doctor or your child's pediatrician or other specialist can treat most common infections (a urinary tract infection [UTI], for example). But when remedies offered don't work as expected, or when infections are too complex for treatment by a primary care doctor, specialized care may be required.

Most new patients come to our infectious disease services through referrals from primary care doctors, emergency departments or urgent care centers. Or our experts may be asked to consult when patients are admitted to the hospital with infections.
Sometimes our patients turn to us for HIV care, help preventing travel-related infections or for hepatitis C care, among other things. They might come to us with a referral, or they may seek us out based on the excellent reputation we have in Greater Cleveland and beyond.
Conditions We Treat
At MetroHealth, we treat the full spectrum of infectious diseases, including:
Bone and joint infections, such as osteomyelitis
Recurrent skin and soft tissue infections, like those caused by staph bacteria
HIV (human immunodeficiency virus) treatment and prevention (pre-exposure prophylaxis, or PrEP)
Sexually transmitted infections (STIs), formerly known as STDs
Hepatitis C, one of several viral diseases that attack the liver
Endocarditis (an infection inside the heart)
Clostridium difficile (C. difficile) infection
Abdominal infections
Central nervous system infections
Common, but complex or severe, infections, such as pneumonia or UTIs
Tuberculosis
Our specialists manage many different illnesses with a variety of methods, including infusion antibiotic therapies. They may be given on an outpatient basis. Our team is also there to help if you need to start a complicated regimen of home infusion therapy, such as for HIV or hepatitis C.

In addition, the team works closely with other specialists to diagnose or treat infections, including orthopedic surgeons, pulmonologists, neurosurgeons and oncologists.
Infection Protection: Our Prevention Services
In addition to treatment, MetroHealth's infectious disease experts help prevent the spread of infections to individuals and the community. This includes:
Vaccines and advice for people traveling to countries where infectious diseases are common. Should you come home with an illness, we can help you too. Our Travel Medicine Clinic offers these services.
Screening and treatment of latent tuberculosis infections, which helps prevent tuberculosis disease. These services are offered in our Tuberculosis Clinic.
Medication (PrEP) to help prevent HIV in people who are HIV-negative but at high risk for infection. The medicine is administered through our HIV/AIDS Clinic.
Pediatric Infectious Disease Expertise
Children can experience infectious diseases too. Our pediatric infectious disease providers see kids with a variety of infectious illnesses, including:
Bone and joint infections
Enlarged lymph nodes
Lyme disease
MSRA infection
Pneumonia
Recurrent sinus and ear infections
Skin abscesses
Tuberculosis
Many of these illnesses can be addressed with medications, but the doses kids need and the method by which those medications are delivered can vary. Our pediatricians are adept at finding the right medication for kids, and we offer home intravenous antibiotic services to children who need prolonged IV care.
Our pediatricians have up-to-date experience and expertise in dealing with infectious disease. They perform clinical research regarding vaccines, antibiotics, antivirals and tuberculosis, and they put that knowledge to work for you and your family.
To learn more about our general infectious disease services or make an appointment with an expert, call 216-778-8305.
To make an appointment with a pediatric specialist, call 216-778-2222.