Peer Support
No one has to do it alone. MetroHealth's peer support program trains people living with HIV/AIDS to help other people living with HIV/AIDS.Peer Coaches are trained people with HIV/AIDS who have learned how to live with their HIV. They are linked with people with HIV/AIDS who are still learning how to live with their diagnosis and may be newly diagnosed or diagnosed for many years. Peer Coaches are trained through the MetroHealth Volunteer Program. They also offer support to those people living with HIV/AIDS who are hospitalized.
Learning how to live with HIV does not have to be overwhelming. People living with HIV/AIDS have firsthand experience and are uniquely qualified to understand, encourage, and support others living with the disease who need help. MetroHealth's Peer Support Services can provide:
Strategies for healthy living and how to prevent disease progression and transmission
Counseling for medication adherence and why treatment is important
Strategies for disclosure, practicing safer sex, and legal obligations
Resources for supportive services for improved quality of life
Become a Peer Coach
Peer coaching is a confidential process through which two colleagues work together to reflect on current practices; expand, refine, and build new skills; share ideas; teach one another; or solve shared problems.
MetroHealth offers trainings to become a Peer Coach. Become an official MetroHealth Volunteer and help others manage their disease. If you can answer YES to the following questions, we need you as a Peer Coach:
Have you found a way to live with HIV and be healthy?
Can you volunteer to spend a few hours a month helping another person living with HIV/AIDS either on the phone, meeting one-on-one or attending a social activity or group?
Would you be willing to visit a person living with HIV/AIDS who is in the hospital and could use some support?
For more information or to sign up to be a Peer Coach, contact Daniel Gebhardt, Peer Support Coordinator & person living with HIV at 216-778-5489 or [email protected]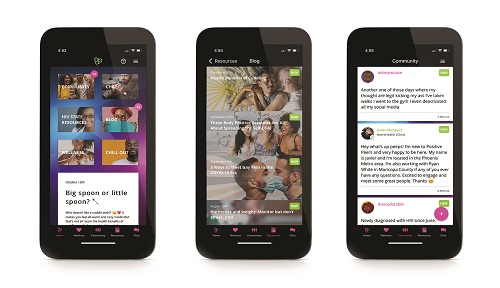 Private social media app for young adults living with HIV.
Positive Peers is a private social media app for young adults, aged 13 to 34.
Chat. Find Doctors. Get Support.
Get the App