Skill and Compassion in Caring for Women
Our OB-GYN physicians, nurse practitioners and midwives, provide gynecologic and well-woman care at locations across the region.
To make an appointment, call 216-778-4444.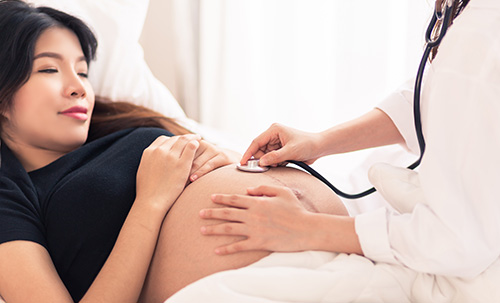 Obstetrics and Gynecology
Think of your OB-GYN as a partner across your lifespan. They can handle your routine care. They can deliver your children. And they can provide ongoing care for women's issues. Your OB-GYN can also help to manage your overall health. For many women, an OB-GYN is a primary care provider. This is the person these women see when they have any health problem.
OB-GYN Services We Offer
Annual well-woman exams are an important part of ongoing OB-GYN care. That's true even if you don't need a Pap test every year. But your MetroHealth OB-GYN can do much more.
Are you thinking of starting a family? Your OB-GYN can work with you before you become pregnant. That care can help you have a healthy baby.
Your OB-GYN can also work with you to choose a MetroHealth pediatrician to care for your baby. At MetroHealth, we have experts to care for the whole family.
And if you're done having babies or you want control over when your next baby will arrive, your doctor can help. We offer several worry-free ways to avoid unplanned pregnancy, including:
Long-acting reversible contraception. This matchstick-sized birth-control implant works for up to 3 years.
Hormone-free Essure hysteroscopic ligation. This can be performed in an office visit.
Tubal ligation. This can be done after you deliver your baby. Or you can have it done later. It's your choice.
Help for Complex Problems
Have you been living with bladder leakage for a long time? What about pelvic pain or heavy periods? For many women, conditions like these limit their activities. And many women do not seek medical advice because they think these issues can't be solved. At MetroHealth, we know that's not the case. Our forward-thinking providers treat these and many other sensitive problems every day.
Should you need a higher level of care, you may be referred to a subspecialist in our Center for Advanced Gynecology. These doctors have additional training and years of experience helping women.
Our team works hard to consider all solutions before recommending surgery. Often there are great options out there that can help, such as:
Medications
Pelvic floor exercises
Biofeedback
Bladder injections of Botox
Our surgeons can use minimally invasive techniques. Minimally invasive laparoscopic surgery uses only tiny incisions. Vaginal surgeries require no abdominal cuts of any kind. Robotic surgery might also be an option for you.
The advantages of these approaches? Shorter hospital stays, a quicker return to normal activities, less post-surgery pain and an improved cosmetic appearance. Many women like these benefits. That's why many women choose MetroHealth.
Other conditions that are often treated with minimally invasive surgery include:
Endometriosis
Uterine fibroids
Urinary incontinence
Pelvic prolapse
Doctors often send their patients to us. And many women come to us for surgical second opinions. We're known for our ability to handle tough cases.
No matter whether you need surgery or something else, we're here to help you get relief from your symptoms. Our specialists love it when their patients say their only regret is that they didn't come to MetroHealth sooner.
Leaders in Women's Health Care
As an academic health center, MetroHealth is home to leaders in obstetrics and gynecology. Many of our physicians publish research and are invited to speak at national conferences. They're known around the country, and in some cases, around the world.
Here's something else that sets MetroHealth apart: our achievement as a Center of Excellence in Women's Health Care and Research. This reflects, among other things, our regional and national recognition, high-quality patient care, specially trained doctors and active involvement in clinical research trials.
And there's one more thing that must be mentioned: the compassion of our providers. From nurses to doctors, they support one another in putting you first.
To make an appointment, call 216-778-4444.
Graduate Medical Education
The MetroHealth System is committed to providing high-quality education and training programs in residency, fellowship and advanced nursing.
Learn more about our programs