Use Your Smartphone to Let Us Know You've Arrived for an Appointment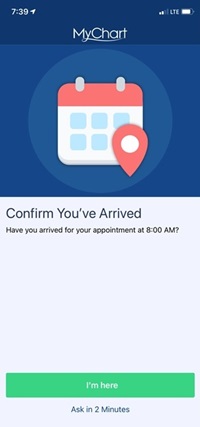 Benefits of the Location-Based Arrival Feature
Skip the front desk
Maintain a safe distance at all times
Walk in, have a seat and wait for your name to be called
How It Works
One to Three Days Before Appointment
If you haven't already, install the MyChart app and set up your smartphone (see below).
Log in to the MyChart app.
Open your upcoming appointment.
Tap "Enable" to turn on the Location-Based Arrival appointment-arrival feature.
Tap "eCheck-In" under the Get Ready section, then follow the prompts.
Day of Appointment
Tap on the MyChart notification (It looks like you are about to arrive for your appointment...) on your smartphone.
Log in to the MyChart app.
Tap "I'm Here" on the Confirm You've Arrived screen. The Welcome screen confirms that you're all set!
Have a seat in the waiting room and wait to be called.
Note: You must be within 30 minutes of your appointment and near the location of your appointment.
Setting Up Your Smartphone for Location-Based Arrival Appointment Arrival
Make sure the MyChart app is installed on your smartphone and follow the steps below.
Apple iOS Users
Step 1 - Allow Location Access
Tap Settings icon
Scroll down and tap MyChart
Tap Location
Tap Always
Step 2 - Enable Notifications
Tap < MyChart back arrow
Tap Notifications
Allow Notifications must be set to ON
Tap to place a checkmark on Lock Screen, Notification Center, Banners
Both Sounds and Badges must be set to ON
Download Sample Apple iOS Screens (iPhone)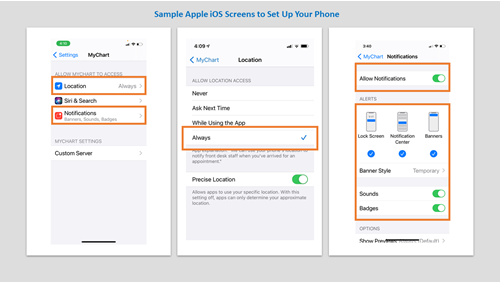 Android Users
Step 1 - Enable Notifications
Tap Settings icon
Tap Apps & Notifications
Tap See All Apps
Tap MyChart
Tap Notifications
All notification settings must be set to ON
Step 2 - Allow Location Access
Tap back arrow in top left-hand corner
Tap Permissions
For Location, either set to ON or Allow all the time
Download Sample Android Screens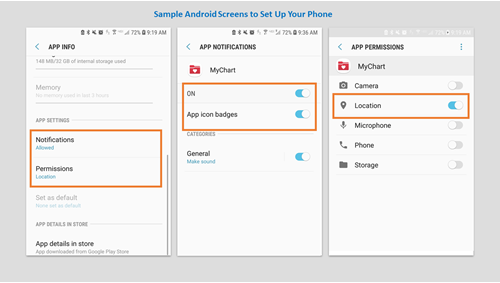 Download the MyChart App
MyChart is available for iOS and Android.
How to Download MyChart for MetroHealth
Go to the App Store or Google Play on your mobile device
Search for "MyChart"
Download the app
Open the app on your mobile device and choose MetroHealth as your provider
Log in with your MyChart username and password
MyChart Support
Email: [email protected]
Phone: 216-778-8801
Monday – Friday, 7 a.m. – 7 p.m.
Cleveland, Ohio