Use Your Smartphone to Let Us Know You've Arrived for an Appointment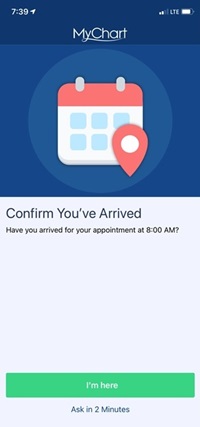 Benefits of the Contact Free Arrival Feature
Skip the front desk
Maintain a safe distance at all times
Walk in, have a seat and wait for your name to be called
How It Works
One to Three Days Before Appointment
If you haven't already, download and login to the MyChart app.
Open the MyChart app.
Open your upcoming appointment.
Tap "eCheck-In" under the Get Ready section, then follow the prompts.
Day of Appointment
When you arrive, open the MyChart app.
Tap "I'm Here" on your upcoming appointment and follow prompts.
Have a seat in the waiting room and wait to be called.
Download the MyChart App
MyChart is available for iOS and Android.
MyChart Support
Email: [email protected]
Phone: 216-778-8801
Monday – Friday, 7 a.m. – 7 p.m.
Cleveland, Ohio

©Copyright 2023 The MetroHealth System | 2500 MetroHealth Drive | Cleveland, OH 44109 | 216-778-7800 | All Rights Reserved.
There is no rating available for this provider for one of two reasons: he or she does not see patients, or has not received the minimum number of patient survey responses.