Fluoroless Ablation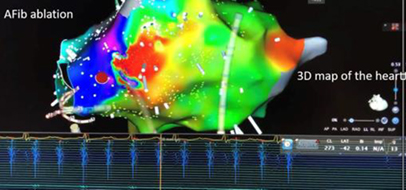 If you have cardiac arrythmia, tachycardia, atrial flutter, premature ventricular contractions or atrial fibrillation, MetroHealth offers a radiation-free alternative to typical cardiac ablation.
Called Fluoroless Ablation, the surgeon uses an ultrasound and a system similar to GPS to know where the catheters are in the heart within 1 millimeter to guide the catheter rather than fluoroscopy, which uses radiation to see the catheters. MetroHealth's Soufian Almahameed, MD, is the only provider in the Cleveland area to offer this procedure.
Fluoroless ablation is equally safe as traditional ablation, and the recovery time is the same – nearly all patients are at their full activity within a week. Ablation is very effective for atrial fibrillation, with a cure rate of 80% after one procedure, and for atrial flutter, with a cure rate of 95% after one procedure.
This procedure is ideal for anyone who wants to minimize radiation exposure.
Fluoroless ablation is available at MetroHealth Main Campus. Call 216-778-2328 (BEAT) for an appointment.

©Copyright 2023 The MetroHealth System | 2500 MetroHealth Drive | Cleveland, OH 44109 | 216-778-7800 | All Rights Reserved.
There is no rating available for this provider for one of two reasons: he or she does not see patients, or has not received the minimum number of patient survey responses.