Recovery Services
Has alcohol or drug dependency affected your life? Are you struggling with mood and relationship problems? Would you like to make positive changes in your life?
Call us to talk with our specialists and begin your recovery at 216-778-4428.
MetroHealth Recovery Services currently offers an intensive outpatient program (IOP) for addiction treatment and healthy lifestyle development. The program utilizes an evidence based 12-week curriculum, to address and treat substance abuse problems, addiction and trauma.

Treatment involves group and individual counseling in addition to family education and 12-step group support. We individualize the treatment to the unique needs of each client, and the program length is based on individual progress. MetroHealth Recovery Services programming teaches the healthy behavior and relationship success skills needed to develop a positive, healthy lifestyle.

What will I achieve?
Addiction management
Stress and mood management
Relationship issue management
Coping with trauma and triggers
The MetroHealth System and Recovery Resources have partnered to coordinate care for patients with behavioral health and addiction issues. The partnership expands services for the community, allowing current Recovery Resources' clients and MetroHealth patients to receive coordinated care for mental illness, alcoholism, drug and other addictions.
Who is eligible for a MetroHealth Recovery Services Assessment?
Anyone 18 years or older with a substance abuse problem who is willing to participate in treatment with a goal of abstinence.
MetroHealth Recovery Services IOP Schedule
The class schedule is three hours/day, four days/week on Monday, Tuesday, Thursday and Friday from 9:00 a.m. - noon.
MetroHealth Recovery Services Staff
We are dedicated to providing comprehensive addiction counseling to all patients, families and communities. Our staff of psychiatrists, psychologists, addiction counselors and interns provides consultation and direct services.
Ewald Horwath, MD, Medical Director
Kristen Liviskie, MSSA, LISW-S, Clinical Director
Our location in the MetroHealth Medical Center, Department of Psychiatry, gives us the ability to provide comprehensive care for the multiple mental and physical complications often associated with addiction.
Insurance Coverage
MetroHealth Medical Center accepts all Ohio Medicaid plans, works with most major insurance companies and also offers finance options for treatment costs not covered by insurance.
In The News
MetroHealth and Recovery Resources Joining Forces - October 2018
Reducing Opioid Prescriptions - September 2018
Senator Rob Portman visits MetroHealth to talk opioids, addiction and what's being done in Ohio - June 2018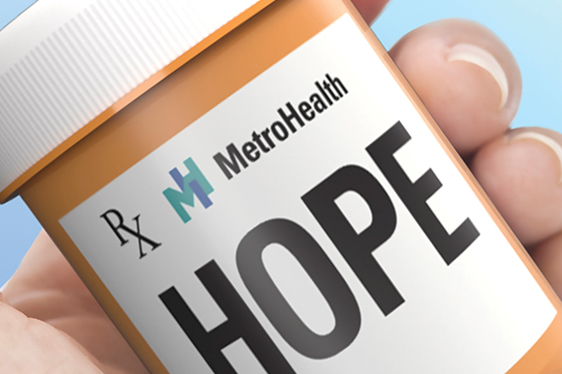 Prescription for Hope
And how do you help doctors still treat their patients' pain?
The latest episode of our "Prescription for Hope" podcast takes listeners inside our efforts to slow the flow of prescription painkillers.
Listen to our latest podcast...