Cleveland Heights Behavioral Health Hospital
We're Moving the Conversation Beyond Wellness to Well-Being
Cleveland Heights Behavioral Health Hospital
We're Moving the Conversation Beyond Wellness to Well-Being
Behavioral Health Services
Intentionally Designed for the Best Patient Care
The new MetroHealth Behavioral Health Hospital is built to support a healing environment, offering inpatient care for adolescents, adults, and seniors.
It's rare to find a hospital system making this type of investment in behavioral health, but it's what our community needs. Experts estimate that Greater Cleveland needs more than 200 additional beds to approach adequate care for some of the most at-risk members of our community.
That's why MetroHealth is building a brand-new behavioral health hospital, offering both inpatient and outpatient care to support our patient's needs.
The hospital includes:
Dedicated spaces to group patients by age and need, providing additional safety for patients and staff while supporting patient needs
Modern patient environments that can be customized to patient and staff needs, for the best healing environment
112 dedicated beds available, allowing our community to grow into the new space
An outdoor recreational space to enrich treatment
More than a new hospital. A groundbreaking philosophy of care.
MetroHealth integrates behavioral health across the entire system because we know mental health care is healthcare.
This integration has led to our investment in the new Behavioral Health Center, which brings with it a philosophy of nurturing patients across an entire continuum of care based on their needs, ushering in a new era of behavioral health care in Cleveland.
A revolutionary care curriculum that follows patients through inpatient, partial hospitalization, intensive outpatient, and outpatient services so patients can continue to make progress on their journey to well-being.
Partnerships with community organizations to provide patients with the support services they need
Experienced leadership dedicated to evidence-based practices that support patients at every stage of their path to health.
Hospital stays will be short term (7 to10 days on average) while people are evaluated and stabilized, focusing on getting people back to a healthier life.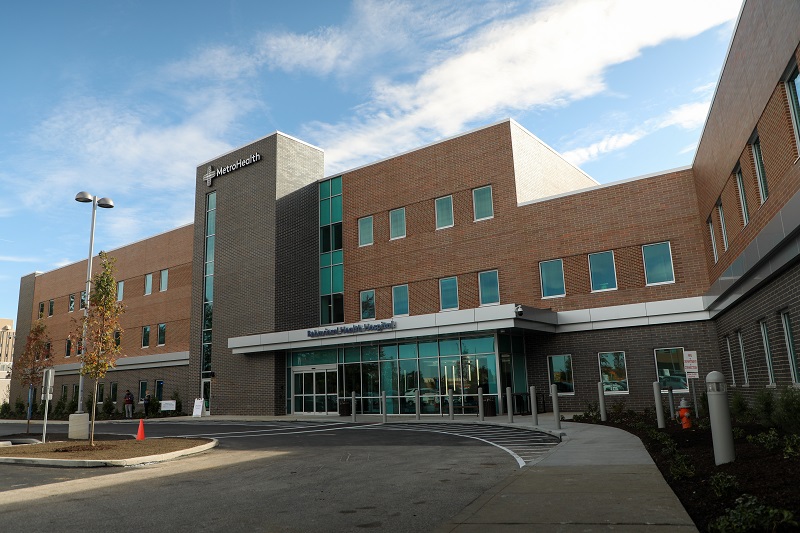 Watch Julia Bruner, MD, Family Medicine Physician talk about our brand-new Cleveland Heights Behavioral Health Hospital on Wellbeing Wednesday.