Senior Health Outpatient Program
We typically see new patients within 24 to 48 hours, and offer early-morning and Saturday appointments. To schedule an appointment, call 216-957-2100.
Senior Health Outpatient Program
We typically see new patients within 24 to 48 hours, and offer early-morning and Saturday appointments. To schedule an appointment, call 216-957-2100.
Geriatrics
Living well requires personalized care, especially as we age. Many seniors face chronic illnesses—and managing those conditions can mean juggling care and medications from multiple specialists.
The Senior Health Outpatient Program at MetroHealth's Old Brooklyn Health Center is an innovative practice, bringing quality senior health care in Cleveland under one roof.
We provide the following medical specialties to address the unique health needs of seniors:
audiology
cardiology (Heart & Vascular Center) and cardiac imaging
dentistry
dermatology
ear, nose and throat (ENT)
endocrinology
gastroenterology
geriatrics/primary care
kidney specialists
laboratory services
neurology
pharmacy – get your medications the same day
physical medicine and rehabilitation
podiatry
preventative and wellness care
pulmonary
radiology services
rheumatology
When to Start a Geriatrics Program
Retirement. Geriatricians aren't just for "old" people. Many people of retirement age find that their medical needs change when they're no longer working.
Geriatric conditions. A geriatrician can help—no matter your age—if you experience geriatric syndromes, such as dementia, depression or delirium. Most people think of these as memory issues, memory loss or confusion.
Medication management. There's a place in geriatrics for anyone who is prescribed many medications—especially if those medications come from multiple providers. A geriatrician can provide invaluable advice on drug interactions and other medication issues.
Mobility concerns. A geriatrician is also a good resource for people who have experienced falls or are afraid of falling. They help people who are becoming frail - losing weight or becoming less sure-footed don't have to mean the end of robust health.
Ongoing pain or illness. A geriatrician can help you to pull together a health plan that respects where you are now and where you want to be in the future. A geriatrician is trained to listen to what you want, not what your age might suggest.
Wellness Exams
The best illnesses and injuries are the ones that never happen. Wellness exams help your geriatrician focus on prevention. These visits are also a great way for us to get to know you—and your health concerns—better.
Two types of wellness visits are covered by Medicare:
A one-time Welcome to Medicare visit.
A yearly wellness visit.
At these visits, we'll talk about your medical history and review risk factors. Then, we'll develop a prevention plan to help keep you healthy. Common topics at wellness visits include cholesterol numbers, how to lower blood pressure and whether you need a bone density test.
Support for Caregivers
At MetroHealth, we understand that senior wellness is often a team endeavor. Many times, it's adult children or caregivers who see the need for geriatric care. We partner with families and caregivers and work to communicate with everyone involved in a patient's care.
Caregiving can be overwhelming, but you aren't alone. MetroHealth offers a Caregivers Support Group. This free, open group meets twice a month. It's a community where caregivers can get information and peer support. Ask about upcoming meetings at your next visit.
MyChart Online Portal
All MetroHealth patients have access to this tool, which is safe, secure and password-protected. Patients may give caregivers proxy to their MyChart account, or they may choose to share results with the people they love. That way, families can keep track of health care, even if they can't attend appointments in person.
Appointments
To schedule an appointment with the Senior Outpatient Program, call 216-957-2100. We typically see new patients within 24 to 48 hours, and offer early-morning and Saturday appointments.
Parking: Garage is next to the building. Easy-access bridge connects the garage to the health center. Seniors receive a $1 discount in MetroHealth parking garages by showing a valid photo ID.
Transportation assistance: Ask about this service when making your appointment.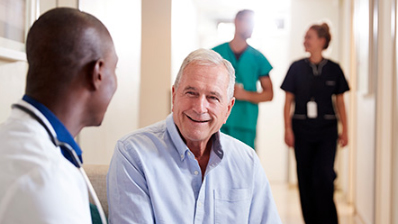 Aging Gracefully with Medicare
The annual physical is an important tool for wellness at any age. But how does a Medicare Wellness exam differ from that annual physical you've been getting for years?
Learn more
Our Doctors/Medical Providers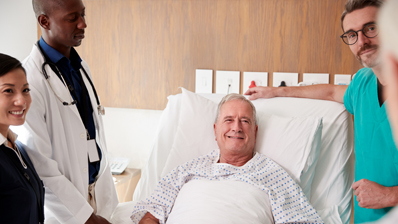 Graduate Medical Education
MetroHealth's one-year Fellowship in Geriatric Medicine educates internists and Family Practitioners, to lay the foundation for future practitioners to apply their skills.
Learn more about training with us.