Eye Care Clinic
Whether it's time for your annual screening or you're concerned about changes in your vision, MetroHealth's Eye Clinic is ready to help.
To schedule an appointment, call 216-778-4391.
Order and re-order contact lenses though our preferred partner's website.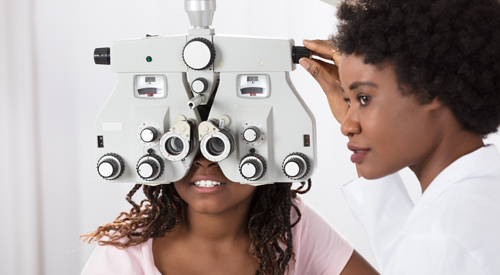 Eye Care (Ophthalmology and Optometry)
MetroHealth's optometrists and ophthalmologists bring a broad range of expertise to the eye care clinic. Our staff includes specialists in corneal disease, glaucoma, oculoplasty and retinal disease. Children benefit from the care and services of our pediatric ophthalmologists. Vision problems related to the brain and nervous system—such as complications due to stroke or double vision—are treated by our neuro-ophthalmologist.
Our Eye Care Services
routine eye exams
contact lens services
comprehensive eye care
surgical expertise
Eye Conditions We Treat
Some of the eye conditions listed below are discovered during routine eye exams. Although many eye diseases can be treated with vision correction, medication or laser therapy, referral to an eye surgeon is sometimes necessary.
Amblyopia ("lazy eye")
Cataract
Diabetic retinopathy
Dry eye
Eyelid drooping
Glaucoma
Hyperopia (farsightedness)
Injuries, including sports injuries
Keratoconus
Myopia (nearsightedness)
Macular degeneration
Retinal detachment
Retinopathy of prematurity
Strabismus
Stye
Routine Eye Exams
Your eyes play a vital role in everyday life, so regular eye and vision examinations are important. Our specialists perform a thorough, comprehensive eye exam. We ask about your medical history and any previous eye or health conditions. Remember to mention any symptoms you've been experiencing. The doctor will check your eye pressure and examine your eyes for signs of disease. You'll read eye charts to check your visual acuity. Using an instrument called a phoropter, your doctor will place a series of lenses in front of your eyes.
Expect to have your pupils dilated with drops. Dilation gives your eye doctor a better view inside your eye. Dilation usually lasts for several hours, and we provide wrap-around sunglasses afterward to protect your eyes. Most people can drive a vehicle after being dilated. If you have any concerns, however, bring a driver with you to your exam.
If your eye condition requires corrective lenses, you'll be given a prescription. We offer contact lens fitting services, but do not dispense eyeglasses. There is an independent eyeglass retail shop at MetroHealth's main campus.
To schedule an appointment, call 216-778-4391.
Order and re-order contact lenses though our preferred partner's website.