Launch Your Own Campaign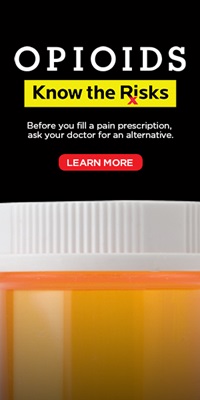 Cuyahoga County is considered a national model for tackling the opioid epidemic. This extensive, long-term public awareness campaign was designed with the purpose of educating residents about the potential dangers of opioid prescriptions.
Here are some example of materials that your organization can obtain, personalize and distribute to help support this initiative:
1. Form Taskforce
This group should be relatively small, composed of marketing and communications professionals with strong ties to media and local community/government leaders.
Healthcare communications professionals; Government communications professionals are good candidates.
2. Secure a website URL
KnowtheRX.org is hosted by cleveland.com and is locally focused. Use Knowtherxplacename.org. For example, KnowtheRxNashville.org; KnowtheRxNorthCarolina.org, etc.
3. Build Media Consortium
Approach media leaders with strong influence and network so they can bring other partners along
4. Build community partnerships
Activate community partnerships. Consider working with any organization in your community that has a platform they can use to help you spread the word. Groups such as, transit companies, hospitals, libraries, mayors and managers associations, faith-based organizations are all good partners to cultivate.
5. Connect on social
---
A Collaborative Effort
In 2016, Cuyahoga County lost 814 people to drug overdoses (heroin, cocaine, fentanyl). In 2017, we lost 867. So far in 2018, that number has grown to 1,154 deaths. This is a crisis that hits every demographic and every town in our county.
Our Attorney General's Opioid Task Force won the US Attorney General's highest award for its collaborative focus on ways to stem the upward trajectory of deaths in 2016. A group of marketing/communications professionals from Cuyahoga County, MetroHealth Systems, the prosecutor's office, the Attorney General's office, and the Medical Examiner's office got together and formed an Opioid Marketing Task Force with a very narrow mission: we wanted to use our expertise to tackle the problem.
We noted that all of our community efforts were focused on the back-end of the issue – from treating addicts, supporting families, taking in the deceased. We were pretty sure that a marketing campaign (no matter how brilliant) wasn't going to cut through to an addict. But we felt that we had a chance at something else – educating the public about just how dangerous opioid pill prescriptions can be. We know that 4 out of 5 heroin users started with opioid pill prescriptions. People know that Heroin is a problem... but they aren't making the connection between taking pain pills and the potential for addiction.
For more information on how the opioid prescription crisis got to be so bad in Ohio, read this special report.
The team wrote an RFP and received responses from several local agencies. Doner Agency got the work and created the campaign. We separated the social media effort to another agency: Global Prairie. Once the platform was created; we began to present to community leaders and to the media.
Crucial to this effort was knowing and reaching out to key media companies and getting their buy in. For this to work, we all agreed we needed a significant, ongoing editorial push as well as a phone bank the night that the major coverage launched.
The mix of edit and marketing is crucial, as it gives the media a voice in addressing the concern. After all, the media is reporting on this issue day in and day out; they feel just as devastated as the rest of us. This campaign is something that they can DO to help make a difference.
We approached every single major broadcast stations, all local radio, our major print and online news source, outdoor advertising companies. NO ONE SAID NO.
Importantly, while some TV stations developed special sections, we were very clear that Cleveland.com would develop and host the online resource center. Our url KNOWtheRX.org redirects to that section. It was important to say this upfront for two reasons – participating media needed to know that online traffic would end up going to Cleveland.com. We decided to work with Cleveland.com because they already have significant traffic; because they have so much traffic and so much "authority" in terms of editorial coverage of the opioid crisis, we didn't have to work hard to build a brand and worry about search engine optimization.