Project DAWN (Deaths Avoided With Naloxone)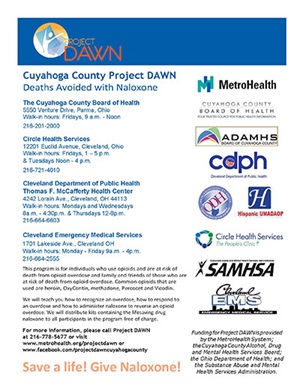 Project DAWN is an opioid overdose education and naloxone distribution (OEND) program, which provides FREE education on what puts someone at risk for opioid overdose, how to recognize the signs and symptoms of opioid overdose and how to respond to an opioid overdose and use naloxone (a.k.a Narcan) the antidote to opioid overdose.
Project DAWN provides program participants with a free naloxone kit.
Eligible program participants are individuals who are at-risk of opioid overdose including those who are in recovery for opioid addiction and those who are actively using opioids, in addition to individuals who may know someone who is at risk for opioid overdose.
To access Project DAWN's confidential and free services, simply visit any of our walk-in locations during our open hours.
No appointment is necessary and visits typically take 15 to 30 minutes.
Highlights:
MetroHealth's Project DAWN project is the second of its kind in Ohio
It is the only program of its kind in Cuyahoga County
Initiated in 2013 by MetroHealth as part of Ohio's network of opioid education and naloxone distribution programs
Come see us at our community walk-in clinics:
Attention: Due to the COVID-19 crisis, Project DAWN distributions will only be made from a MetroHealth RV at the following location:
Empty lot across from Main Campus Outpatient Building
3370 W.25th Street
Monday- Friday
10 a.m.- 2 p.m.
Please follow our Facebook page- Project DAWN Cuyahoga County for updates. We apologize for any incovenience.
The following are closed until further notice:
Cleveland Emergency Medical Services
1701 Lakeside Ave, Cleveland OH
Walk-in hours: Monday – Friday 9a.m. – 4 p.m.
216-664-2555

The Cuyahoga County Board of Health
5550 Venture Drive, Parma OH
Walk-in hours: Fridays 9a.m. – 12p.m.
216-201-2000

Hispanic UMADAOP
(With Circle Health Services Syringe Exchange Program)
3305 West 25th Street, Cleveland OH 44109
Walk-in hours: Monday – Friday 9a.m. – 12p.m. & 1p.m. – 3p.m.
216-259-1222
The following have updated hours:
Circle Health Services
12201 Euclid Ave, Cleveland OH 44106
Walk-in hours: Tuesdays 12p.m. – 4p.m. & Fridays 1p.m. – 5p.m.
216-721-4010

Cleveland Department of Public Health's Thomas F. McCafferty Health Center
4242 Lorain Ave, Cleveland OH 44113
Walk-in hours: Mondays and Wednesdays 8a.m. – 4:30p.m. & Thursdays 12p.m. – 8p.m.
216-664-6603



First Responders, Organizations and Groups
The Office of Opioid Safety's Project DAWN Program can offer education, training and kit distributions to first responders, organizations, groups and communities in Cuyahoga County.
To learn more, contact us at (216) 778-5677 or [email protected]
If you are a police agency in Cuyahoga County and in need of naloxone, educational opportunities, Information and Resources Guides or are interested in starting a quick response team, please email Kelly Cioletti [email protected].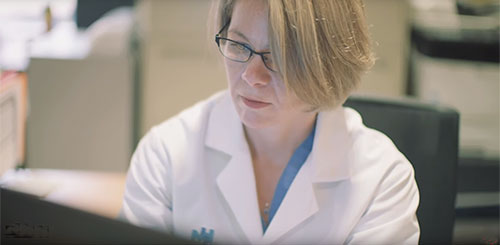 Prescription for Hope
"Prescription for Hope," a podcast from The MetroHealth System, shares the stories of some of the people working to end the crisis and bring the dawn.
Listen