Neurologic Physical Therapy Residency
Designated as one of Newsweek's Best Physical Rehabilitation Centers of 2020
Learn More
Neurologic Physical Therapy Residency
Designated as one of Newsweek's Best Physical Rehabilitation Centers of 2020
Learn More
Neurologic Physical Therapy Residency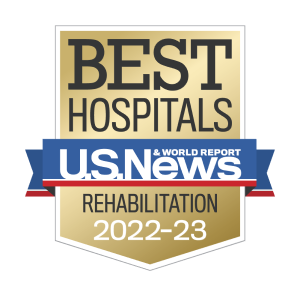 Open House | Wednesday, December 14, 2022
Choose One Option
In-person Tour and Q&A: 10:00 am -2:00 pm (lunch included during Q&A)
Virtual Q&A ONLY: 12:00-1:00 pm (via Microsoft Teams meeting)
In-person event will include tours of all clinical facilities, lunch, and Q&A.
Q&A session includes Program Director, Program Coordinator, current resident, and faculty members.
Registration is REQUIRED for both options by Friday December 9, 2022. Click here to register.
The MetroHealth Neurologic Physical Therapy Residency Program is a 12-month program designed for licensed physical therapists to train toward accelerated advanced expertise in neurological physical therapy through didactic education, clinical evidence-based practice, mentorship, research, and service.
MetroHealth Medical Center is ranked in the top 50 at #24 in the nation (and #1 in Ohio) by U.S. News and World Report's Best Hospitals for Rehabilitation.
Free-standing Rehabilitation Institute at the MetroHealth Old Brooklyn Healthcare Campus
Features 67 inpatient rehabilitation beds on three specialized floors for spinal cord injury and trauma, brain injury and stroke
As the primary certified Level One Trauma and Burn Center for all Northeastern Ohio, MetroHealth Medical Center treats a large number and variety of trauma cases
The MetroHealth Rehabilitation Institute is designated as a Spinal Cord Injury Rehabilitation Model System, in recognition of our state-of-the-art spinal cord injury care and cutting-edge clinical research
Outpatient clinics focus on musculoskeletal/sports, pain, amputee management, lymphedema, concussion, electrodiagnosis, spasticity management, as well as ultrasound-guided injections and interventional spine procedures
Mission Statement
The Mission of MetroHealth's Neurologic Physical Therapy Residency program is to prepare physical therapists to become dedicated advanced neurologic practitioners through mentorship, inter-professional collaboration and the integration of clinical learning experiences, evidence-based practice, research, teaching, community service, and professional opportunities. Graduates are trained to become board-certified neurological clinical specialists who are influential contributors within the health care team promoting health, access to care, and quality of life for all individuals and communities.
Residency Accreditation Status
MetroHealth has been granted accreditation by the American Board of Physical Therapy Residency and Fellowship Education (ABPTFRE).
Contact Us
For more information, please contact Angela Wolf, PT, DPT at [email protected].