SkinIO Advanced Skin Imaging and Mole-Mapping
Your skin can tell you about a problem long before it gets serious or life-threatening. About 80% of melanomas come from a new spot on the skin; the other 20% come from a change to an existing mole.
With just a smartphone or tablet and a new non-invasive technology called SkinIO, you and your doctor can create a digital skin health record to monitor your skin's health and detect potential problems.
MetroHealth is the first and only hospital in Ohio to offer SkinIO.
SkinIO total body photography may be covered by insurance. Speak with your insurance company or your doctor's office for specific pricing or billing information.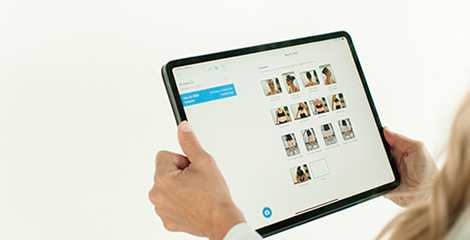 Here's How It Works
A nurse will take whole-body images of your skin with an iPad. No other devices are needed. SkinIO's AI technology will flag any potential skin issues that might require more attention - in addition to a typical skin exam. The process is quick and easy, and we'll review your results with you on the spot and let you know if any follow-up is necessary.
The images remain secure and private, visible only to you and your provider. They become a part of your digital skin health record and allow you and your doctor to track your skin health over time.
After your initial exam, you'll have access to the SkinIO app on your phone or tablet. That app will allow you to monitor your skin health at home, track any changes and ask questions.
Watch a short video to introduce you to the basics of SkinIO
To schedule an appointment, call 216-778-3376 (DERM).