Burn Care Center Celebrating 50 Years of Service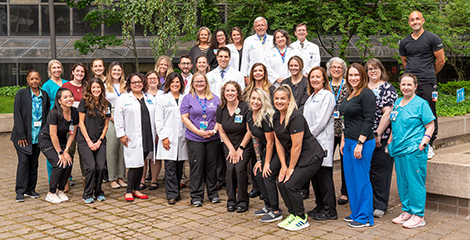 Half a century after its founding, MetroHealth's Comprehensive Burn Care Center is considered one of the most advanced in the nation, known for both its medical innovation and its leadership on ethics.
One of only two verified adult and pediatric burn centers in Ohio, the center in 2021 once again obtained verification (a process done every three years) by the American Burn Association.
But once MetroHealth wasn't even in the running to host a burn center.
Shriners Hospital for Children built its first pediatric burn hospital in 1966 on the campus of the University of Texas Medical Branch in Galveston. Not long after, hospital officials traveled to Cleveland to scout a possible midwestern location, as they looked to create a national care network. The closest burn centers to Cleveland at the time were in Pittsburgh and Louisville.
"The only hospitals they would consider were either University Hospitals or Cleveland Clinic," said Richard B. Fratianne, MD, a retired surgeon at MetroHealth who served as director of the Comprehensive Burn Care Center here for more than 30 years until stepping down in 2002.
The team from Shriners Hospital ended up not choosing either location. Instead, they opened a pediatric burn hospital in Cincinnati in 1968.
But their brief flirtation with Cleveland inspired Dr. John Davis to think about starting a burn center himself. Davis was a trauma surgeon and director of surgery at what was then Cleveland City Hospital. A Korean War veteran, Davis purportedly was one of the inspirations for Hawkeye Pierce, the iconoclastic surgeon at the heart of Richard Hooker's antiwar novel M*A*S*H and the classic film and television series that followed.
Davis believed that with a dedicated space for burn patients, the hospital could provide specialized treatment and care they wouldn't routinely receive. He convinced the hospital's Board of Trustees, including Cleveland Fire Chief John Gannon, to buy into the idea.
But in early 1969, before his dream could launch, Davis left Cleveland to become chief of surgery at the Medical Center Hospital of Vermont. The burn center remained in limbo until physician leaders convinced a reluctant Fratianne – who had completed his residency and fellowship in general surgery in 1965 at City Hospital – to give up a thriving practice doing advanced cancer surgery.
The center officially opened in summer 1970 with Fratianne at the helm. There were then fewer than 10 such centers in the United States. Initially short-handed, Fratianne eventually assembled a multi-disciplinary team of two dozen people who met regularly to discuss patient care. During those meetings, everyone's opinions were encouraged and valued.
Today, the Burn Care Center team includes doctors, nurses, therapists, a nutritionist, a medical ethicist and a dietitian who meet weekly to talk through each patient's individual treatment plan.
Finding a Home
During its first two years, the Burn Care Center team operated out of a vacant emergency department with no air conditioning. An isolation room was fashioned out of a steel frame with a drape.
An additional bed made of aluminum tubing and heavy plastic was used to treat the most serious burns. Hydrotherapy tubs were in the new physical therapy department. There was no distinct inpatient area set aside for burns other than the ICU beds.
In 1972, the Burn Care Center moved onto the 11th floor of the newly constructed West Tower. The center occupied the entire floor and included a large treatment room, hydrotherapy room and eight patient care rooms.
Since its opening, the Burn Care Center has received tremendous support from area firefighters, who have raised hundreds of thousands of dollars to go toward patient care and research. A partnership forged in 1986 between the Northern Ohio Fire Fighters, Northeast Ohio Fire Chiefs' Association and MetroHealth led to the creation of the Aluminum Cans for Burned Children Foundation. ACBC raises money that pays for treatment and rehabilitation not covered by insurance as well as clothing, toys and other items.
ACBC also raises money for Camp Phoenix, a free, four-day summer and winter camp for pediatric and adolescent burn patients. The first summer camp was held in 1988 in Akron and drew 35 patients.
MetroHealth formed support groups for adolescents (believed to be the first of its kind), young adults and older adults. As more people began surviving serious burns, the need for these groups grew.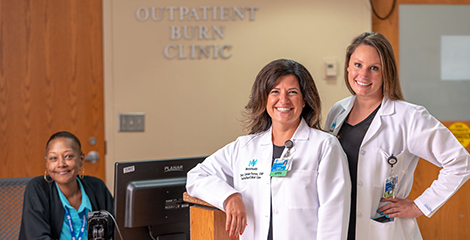 The Need For Outpatient Service
Since 1988 the Burn Care Center has been housed on the fifth floor of the Hamman Building; its official name is the John A. Gannon Center for Burns and Trauma. The center has 14 inpatient beds including five intensive care beds, a burn trauma admitting room, wheelchair accessible shower, activity room and an expanded procedures room to facilitate wound care.
The space also has an outpatient clinic that operates 24 hours a day, seven days a week – a rarity in the United States.
Treating patients without having to admit them for what could be a lengthy stay revolutionized outpatient burn care, said Charles Yowler, MD, the center's interim director and a MetroHealth physician since 1996.
"Traditionally, everyone got admitted. That was very expensive and a huge disruption to the patient's family," he said. Even if patients' burns weren't life-threatening, they often stayed as an inpatient if dressings needed to be changed every day. Outpatient care wasn't an option since it was only available one day a week.
Once the outpatient clinic was set up, inpatient numbers dropped by half, to just under 200 a year, Yowler said.
Remaining Relevant in an Uncertain Future
At its peak, the United States had around 400 burn centers. Now just over 100 remain and one-quarter of those are in danger of closing because there aren't enough patients – the result of safer homes and workplaces thanks to building code enforcement and safer appliances. The patients that are there don't need to stay as long.
Like most burn centers, MetroHealth's has seen a reduction in the number of burn cases. To offset that decline, MetroHealth is treating more patients with major wounds, including complex wounds from diabetes and rare infections, and has developed a specialized management for frostbite injuries.
The mission continues to evolve, evidenced by the creation in 2015 of MetroHealth's Institute of Burn Ethics. It's the only institute in the United States dedicated to ethical issues in burn and complex wound care.
The Burn Care Center continues to attract the brightest trauma burn surgeons and nurse practitioners. The outpatient clinic treats more than 700 new burn patients a year. Working as a team – embodying the motto Together Each Accomplishes More – MetroHealth's commitment to heal continues.