2022 MetroHealth Medical Hall of Honor Inductees
Highlights
Six individuals joined the MetroHealth Medical Hall of Honor as 2022 inductees.
The honorees are among the fourth class of inductees to the Hall of Honor, established in 2011 to mark MetroHealth's 175th anniversary.
The Hall of Honor pays tribute to individuals whose innovation, academic excellence, and leadership have transformed MetroHealth and the practice of medicine.
Process
MetroHealth alumni, faculty and former faculty submitted 36 nominations.
The nominees were evaluated by a rating system and scored accordingly.
A distinguished panel of 14 MetroHealth physicians and volunteer leaders facilitated the process with prescribed criteria.
Qualifications include leadership, patient care, medical education, and research excellence.
2022 Class
The 2022 inductees' contributions span more than 75 years and reflect MetroHealth's long history of excellence.
They were recognized during an induction ceremony on Thursday, August 25, at The Glick Center.
2022 Inductees
Gary Clark, MD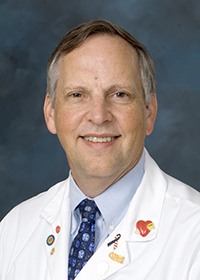 Dr. Gary Clark retires from MetroHealth as an academic physiatrist, Board-Certified in Physical Medicine & Rehabilitation (PM&R), a medical educator, as well as a physician executive, having earned the designation of Certified Physician Executive as well as a Masters Degree in Medical Management from the Heinz School of Public Policy and Management at Carnegie Mellon University. His career has been characterized by a series of medical leadership positions, both at academic medical centers and in national professional societies.
After serving for 12 years as Professor and Founding Chair of the Department of PM&R at Case Western Reserve University School of Medicine, he stepped down in 2013 to take the Vice Chair position and a broader organizational role as Associate Chief Medical Officer/Education for The MetroHealth System, as well as Assistant Dean for Student Activities, MetroHealth Campus for CWRU.
After 17 years as PM&R Residency Program Director, he stepped down to assume roles as Director of the Division of Education & Training for the Department of PM&R (with overview of residency and fellowship training programs), as well as Medical Director for Therapy Services for the Department of PM&R. He continued to serve as Associate Designated Institutional Official and Vice Chair of the Graduate Medical Education Committee for The MetroHealth System, and recently completed his term as Past Chair of the Faculty Council of CWRU School of Medicine.
Organizationally he served as President of the Association of Academic Physiatrists (AAP - the PM&R academic society), Director of the AAP Program for Academic Leadership, and as a Director for the American Board of PM&R (ABPMR). He previously served on the Accreditation Council on Graduate Medical Education (ACGME) Residency Review Committee for PM&R, and the ACGME Milestones Project for PM&R Advisory Group. He served as an American Board of Medical Specialties (ABMS) representative on the Accreditation Review Committee of the Accreditation Council on Continuing Medical Education (ACCME).
Dr. Clark's primary clinical expertise is in the area of amputee rehabilitation and he serves as Director of Amputee Rehabilitation for the MetroHealth Rehabilitation Institute, as well as a Medical Director for Paradigm Catastrophic Care Management (consulting role for clinical management of workers with amputations due to catastrophic workplace injuries nationally).
Jane Fusilero, RN, MSN, NEA-BC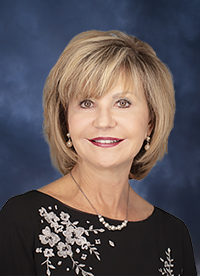 Jane Fusilero was the Vice President and Chief Nursing Officer at MetroHealth from July of 1994 to February of 2011.
As Chief Nursing Officer, Jane rebuilt the nursing department. She introduced the concept of shared governance and established a committee structure to allow nurses to have a voice and participate in decision-making. She worked to eliminate agency and travel nurses, which promoted quality and increased ownership amongst the staff. In 2005, she shared her vision for MetroHealth to achieve elite Magnet designation from the American Nurses Credentialing Center This helped recognize and share nursing's accomplishments and contributions to patient care. At the time MetroHealth achieved Magnet, less than 200 hospitals in the country were Magnet designated. She also led a 2010 re-designation.
Jane led the development of several programs that were innovative during her tenure at MetroHealth. The Career Advancement for RN Excellence (CARE) Program allows frontline nurses to develop their interests in an area such as research, performance improvement, education, leadership, or evidence-based practice, while remaining at the bedside and positively impacting patient care. The program is still in existence today. She also developed tracks for experienced nurses to help keep them in the workforce. Such roles included: admission nurse, discharge nurse, education, elder life nurse, and volunteers.
During Jane's tenure, the Director of Advanced Practice Nursing role had been formally recognized in only 4 hospitals in Ohio.. The development of this Director role at MetroHealth demonstrated a leadership path for Advanced Practice Registered Nurses (APRNs) and was shown to increase staff satisfaction and professional growth, along with improvedfiscal and quality outcomes. Jane also developed the quality non-productive incentive for APRNs which helped pave the way for the current compensation model in use.
Jane was the first CNO to highlight and develop research in Nursing at MetroHealth, creating the Director of Nursing Research role. By supporting research training and education for nurses,. there were hundreds of nursing publications and presentations during her tenure.

Jane worked with the MH Foundation to obtain several grants to facilitate registered nurses' return to school for their Bachelor of Science in Nursing(BSN) and for LPNs to obtain their associate's degree to become a registered nurse. This was the beginning of the journey to meet the Institute of Medicine's Future of Nursing recommendation that the nursing workforce be BSN-prepared by 2020-an achievement MetroHealth obtained in 2019.
Terry Stancin, PhD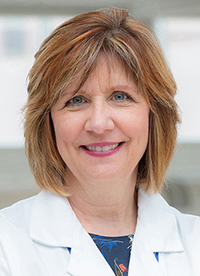 Dr. Terry Stancin is the youngest of three sisters born in Akron, Ohio. Her father had just an 8th grade education but was WWII veteran and tool and die maker. Her mother was a registered nurse who raised young Terry to be fierce as a helper and a healer. After graduating valedictorian of Ellet High School in Akron, and with an academic scholarship in hand, Dr. Stancin became the first in her family to attend college at nearby Hiram College, where she majored in Psychology and graduated Phi Beta Kappa in 1975. At Kent State University, she obtained a master's and PhD in clinical psychology, completing an internship at Grady Memorial Hospital/Emory University in Atlanta, GA.
After completing her training in 1986, Dr. Stancin was recruited to the Department of Pediatrics at "Cleveland Metropolitan General Hospital" where she led training initiatives to enhance skills of pediatric residents to better address developmental and behavioral concerns of children. Her experiences as a preceptor for pediatric residents in continuity care clinics led to a career commitment as an advocate for improving access for youth developmental and behavioral health services in primary care. Today, the MetroHealth Program for Pediatric Integrated Primary Care she established serves as a model for behavioral health service delivery and workforce development.
Dr. Stancin remained at MetroHealth for more than 36 years. During that time, she held a variety of leadership roles in the Departments of Pediatrics and Psychiatry and the with the medical system at large. She and the psychology team helped launch numerous programs serving diverse, vulnerable youth in Cleveland including one of the first multidisciplinary clinics serving transgender youth in this country, an integrated clinic for children in foster care, a school health clinic, and a team-based center for youth with autism spectrum and developmental disorders. As Chief Psychologist, she tripled the number of psychologists at MetroHealth in less than ten years and supported the expansion of psychology internship and fellowship training programs.
Dr. Stancin's passion included not only compassionate clinical care, but also academic excellence and advocacy. She was an active research collaborator best known for her work in pediatric traumatic brain injuries as well as integrated primary care. She maintained continuous external funding throughout her career. Her scholarship was recognized in 2003 by promotion to rank of Professor at Case Western Reserve University, and she served as Chair of the MetroHealth Committee on Appointments, Promotion and Tenure for more than 8 years. Throughout her career, Dr. Stancin was a willing academic and clinical mentor for many faculty for which she was recognized in 2015 as the inaugural Faculty Mentor of the Year for Case Western Reserve University School of Medicine.
Dr. Stancin has been recognized as a thought leader in national pediatric and psychology organizations. She was one of the first psychologists (non-physician) to be elected President of the Society for Developmental and Behavioral Pediatrics (2014-15). She currently serves on the Board of the Society of Pediatric Psychology, is on the Council of Representatives of the American Psychological Association and is a member of the American Academy of Pediatrics Committee of Psychosocial Aspects of Child and Family Health (COPACFH). Dr. Stancin is on the editorial board of four major scientific journals and is currently an Editor for the 5th edition of major pediatric textbook, Developmental- Behavioral Pediatrics. She has authored more than 150 peer-reviewed scientific publications, 24 book chapters, and is a frequent invited speaker about pediatric integrated primary care.
Dr. Terry Stancin is currently Professor of Pediatrics, Psychiatry, Physical Medicine & Rehabilitation, and Psychological Sciences at Case Western Reserve University. After more than three decades at MetroHealth, she recently retired as Chief of Psychology, the Director of Child and Adolescent Psychiatry and Psychology, and the Vice-Chair for Research in Psychiatry. She is a board-certified Clinical Child and Adolescent Psychologist and a Fellow of APA Division 54, (Society of Pediatric Psychology).
Among her awards, Dr. Stancin is most pleased to have received the 2018 National Compassionate Caregiver of the Year Award from the Schwartz Center for Compassionate Healthcare, the 2019 Joseph D. Matarazzo Award for Distinguished Contributions to Psychology in Academic Health Centers by the Association of Psychologists in Academic Health Centers, the Lee Salk Distinguished Service Award from the Society of Pediatric Psychology, and the Public Sector Psychologist of the Year Award by the Ohio Psychological Association. Upon her retirement, the Terry Stancin Mentorship Award was established in the Department of Psychiatry at MetroHealth in her honor.
Along the way, Dr. Stancin married Michael Spetrino and had two daughters, Rachel (a pediatrician) and Lillian (an attorney). Her hobbies include attending live theatre, creating craft cocktails for friends, traveling, and being fierce.
Harry Walker, MD
Dr. Harry Walker started with MetroHealth Medical Center in July of 1982. He rose to become a valued member of the executive team prior to his retirement. Harry spent his 32-year career at MetroHealth and retired as the system's Senior Vice President for ambulatory operations. In his practice, he specialized in internal medicine and led MetroHealth's primary care department for six years.
During his tenure, Harry led the expansion of MetroHealth's primary care footprint, growing from one site (the former Clement Center) to multiple primary care sites throughout the county. He embodied the mission of MetroHealth in his leadership role. During a period of rapid expansion, his focus was always on providing patient care with respect and dignity for all who came to our clinical sites.
He was instrumental in the transformation of our primary care practices to a patient-centered medical home model of care. This positioned us to successfully carry out the Medicaid Waiver demonstration in 2013, which in turn supported the statewide expansion of Medicaid in Ohio in 2014. MetroHealth's Medicaid waiver demonstration led to publication of a paper in a national medical journal.
Dr. Walker's commitment to MetroHealth's mission was a guiding light for many physicians and advanced practice providers. He encouraged and nurtured their development to physician clinicians and leaders. His steady leadership during some very challenging times contributed greatly to our institution being in the situation it is today.
Legacy Honorees-Posthumous
Charles Franklin Hoover, MD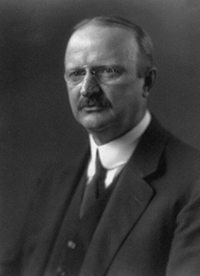 After finishing training at Harvard he sought additional training in Europe, first at University of Strassburg and then University of Vienna. He returned to Cleveland in 1894 to teach Physical Diagnosis at City Hospital, eventually becoming Professor of Medicine in 1909. He is largely credited for bringing sophisticated bedside physical diagnosis and the custom of writing medical histories to Cleveland City Hospital. Although gruff and sometimes harsh, he was highly respected and sought after by the students. It is said that he might spend hours at a single patient's bedside examining them carefully.
His expertise was widely recognized, and he wrote two chapters on heart disease in Osler's Textbook of Medicine in 1908. He was the discoverer of Hoover's sign in neurology.
He served at Base Hospital Unit number 4 during World War 1, where he volunteered to provide anesthesia for Dr George Crile's patients (Crile being the later founder of the CCF). In 1943 the psychiatric building at City Hospital was named posthumously in his honor: Hoover Pavilion.
In the late 1950s, Dr Robert Stecher (Hall of Honor Inductee 2011) became Chairman of the Memorial Committee, whose membership included Mr Alexander Harmon (Superintendent of City Hospital) and Dr Charles Rammelkamp (Hall of Honor Inductee 2011).
It was their mission to dignify and decorate the "old time greats" by hanging oil portraits at the entrance of City Hospital. The portraits to be included: Mr. Dudley Blossom, Dr Carl Hamann (HoH), Dr Roy Scott (HoH), Dr John Toomey (HoH) and Dr Charles Hoover.
John David Reid, MD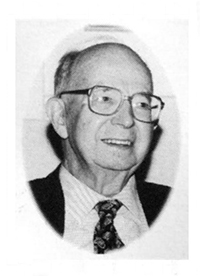 John David Reed; (Dave' Reid) a native of New Zealand, was chairman of the Department of Pathology at Cleveland Metropolitan General Hospital from 1964 to 1980. Following his departure from Metro he served on the staff in the Department of Pathology of Robinson Memorial Hospital in Ravenna, Ohio.
His academic productivity, however, continued well beyond his retirement as a practicing pathologist to near the time of his death on December 28th, 2001. Included among the papers in this volume is Dr. Reid's final manuscript, still in its rough form.
Dave Reid loved to network. He found collaboration and support for his projects in the most unlikely places like the Yerkes Primate Research Center at Emory University, the Department of Entymology at Ohio State University, and McCrone's Analytical Institute in Chicago. He generated significant scientific discoveries on the most meager of budgets, sometimes using himself as an experimental guinea pig.
One can glimpse from the content of these published articles Dave's wide – ranging interests. Within the body of his work, however, certain major themes emerge – the differentiation and classification of neoplasms, calcium oxalate, infectious disease, and his overriding obsession, sarcoidosis. Dave's unique and sometimes unorthodox ideas stemmed from his ability to amalgamate information from the natural sciences – physical and organic chemistry, zoology, botany, mineralogy – with his own unique perspective of pathologic morphology. A master of all things "animal and mineral" Dave was the epitome, in modern parlance, of someone who thought "outside of the box."
One can also glean in his portrait that wry wit, mischievous smile, skeptical gaze and friendly attitude which made Dave such an interesting individual and so much fun to be around. A true disciple of Socrates, Dave probed the tenets of those who consulted him or sought his advice. Although it was never quite predictable what might emerge from his thought process, it was undoubtedly a novel idea worth pondering. I miss our many discussions on the topic of sarcoidosis even though I must confess that he occasionally lost me in his digressions into the metabolic pathways of oxalate metabolism.